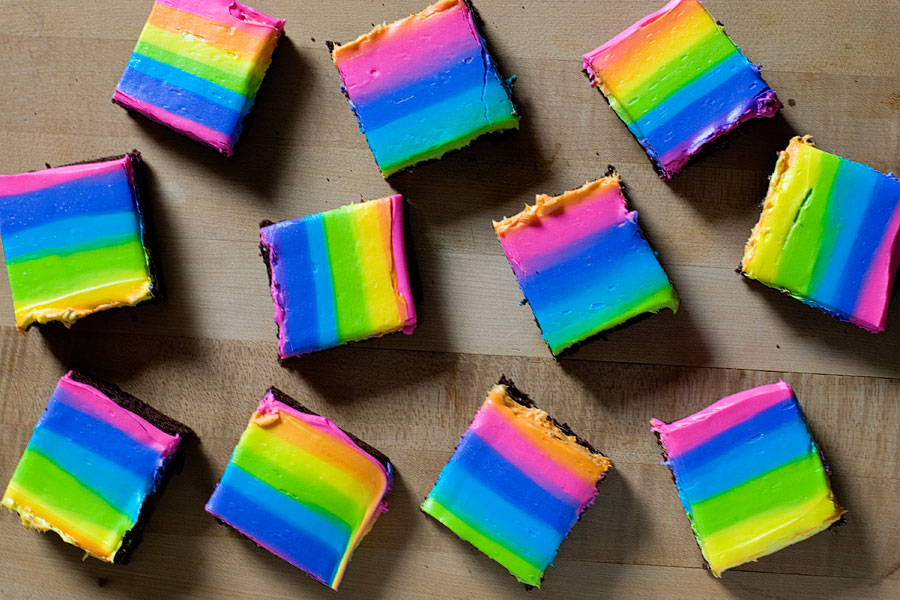 Aren't these dreamy? I can't stop staring at the pretty colors.
And the best part? They are so, so easy.
Seriously.
If you need to make a treat for a get-together or a party — and want to make a big impression — try these!
Yield: About 20 brownies
Rainbow Brownies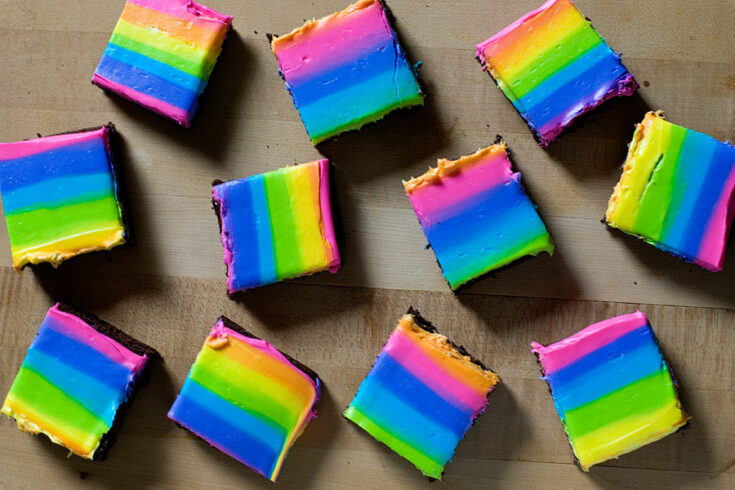 A wonderful treat for a birthday party or Pride event!
Ingredients
1 box brownie mix (plus required oil + eggs)
3 tubs of vanilla icing
Various food colorings (choose any colors you'd like – I used Wilton gel colorings)
Disposable pastry bags
A knife or kitchen scraper
Instructions
1. Make brownies according to box directions. Let the baked brownies cool completely. Do not cut them. Remove the uncut giant brownie onto a cutting board or serving platter.

2. Divide the icing into six bowls. Dye each bowl a different color.

3. Snip the ends of the pastry bags – about 1/2 inch. You won't need a pastry tip.

4. Fill the pastry bags with the icing. Pipe stripes onto the brownies. They can be messy and totally imperfect – doesn't matter. Just cover the slab of brownies with lines of icing.

5. Smooth out the icing with a kitchen scraper or a knife.

6. Cut the brownies into squares and serve. Easy squeezy!
Notes
Your yield will depend on the size of your baking pan and how big or small you cut your brownies.