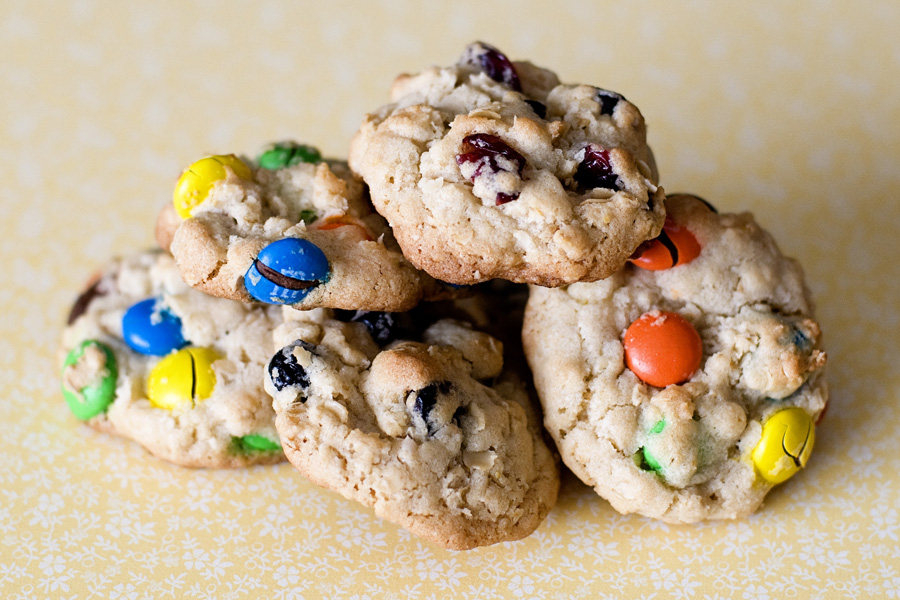 So does anyone know why cookies made with *everything* are called "ranger cookies"? Seems like a slightly random name for some very delicious cookies! The nice thing about this recipe is that you can switch it up – substitute the "fun" ingredients, depending on what you like! I used M&Ms for half of the batch, and dried fruit for the other half. Yummy!
Ranger Cookies
Recipe Source: Ultimate Cookies Magazine
Print Recipe
1/2 cup butter, softened
1/2 cup granulated sugar
1/2 cup brown sugar
1/2 teaspoon baking powder
1/4 teaspoon baking soda
1 egg
1 teaspoon vanilla
1-1/4 cups all-purpose flour
1 cup quick-cooking oats
1 cup flaked coconut
1 cup raisins, dried cherries, dried cranberries, M&Ms, or whatever you'd like
1. Preheat oven to 375F
2. In a large mixing bowl beat butter with an electric mixer on medium to high speed for 30 seconds. Add granulated sugar, brown sugar, baking powder, and baking soda. Beat until combined, scraping sides of bowl occasionally. Beat in egg and vanilla until combined. Beat in as much of the flour as you can with the mixer. Stir in any remaining flour. Stir in oats, coconut, and dried fruit/candy.
3. Drop dough by rounded teaspoons 2 inches apart onto an ungreased cookie sheet. Bake for 8-10 minutes, or until edges are golden and centers are set. Let stand for 1 minute on cookie sheet, then transfer to a wire rack to cool.
*Makes about 48 cookies.
**If you want BIG cookies, place 1/3-cup mounds of dough 2 inches apart on an ungreased cookie sheet. Press into 3-inch circles. Bake for 10-12 minutes or until edges are golden brown and centers are set. Makes about 10 cookies.