I found two similar recipes for these bars – one from Taste of Home and the other from Nestle Tollhouse. I combined the two and POOF, delicious and gooey raspberry treats appeared. I also have a deep-rooted love for all things raspberry (just as I do for all things maraschino cherry and just about every other fruit). And top it all off with toasted almonds? Yes, yes, yes please.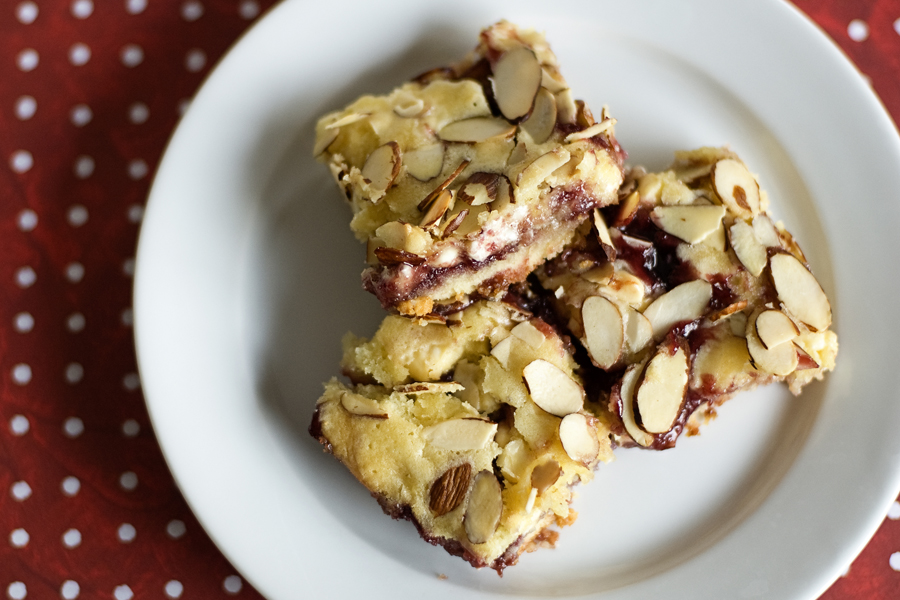 Razz-Ma-Tazz Bars
Print Recipe
1/2 cup butter
2 cups vanilla or white chocolate chips, divided
2 eggs
1/2 cup sugar
1/2 tea. almond extract
1 cup all-purpose flour
1/2 tea. salt
1/2 cup seedless raspberry jam or preserves
1/2 cup sliced almonds
1. Preheat oven to 325F and grease a 9×9 baking pan.
2. Melt butter in the microwave for one minute at high heat. Stir. Add 1 cup white chocolate chips and let stand. Do not stir.
3. Beat eggs in a mixing bowl until foamy. Add sugar; beat until thickened and lemon-colored. Beat in chip/butter mixture and almond extract. Combine flour and salt; gradually add to creamed mixture.
4. Spread 1/2 of the batter into the greased pan and bake for 17-20 minutes or until golden brown.
5. Remove from oven and spread jam over the warm crust. Stir the remaining white chocolate chips into the remaining batter. Drop spoonfuls of the batter over the jam. Sprinkle with almonds.
6. Bake for 25-30 minutes or until edges are browned. Cool completely in pan on wire rack; cut into bars.