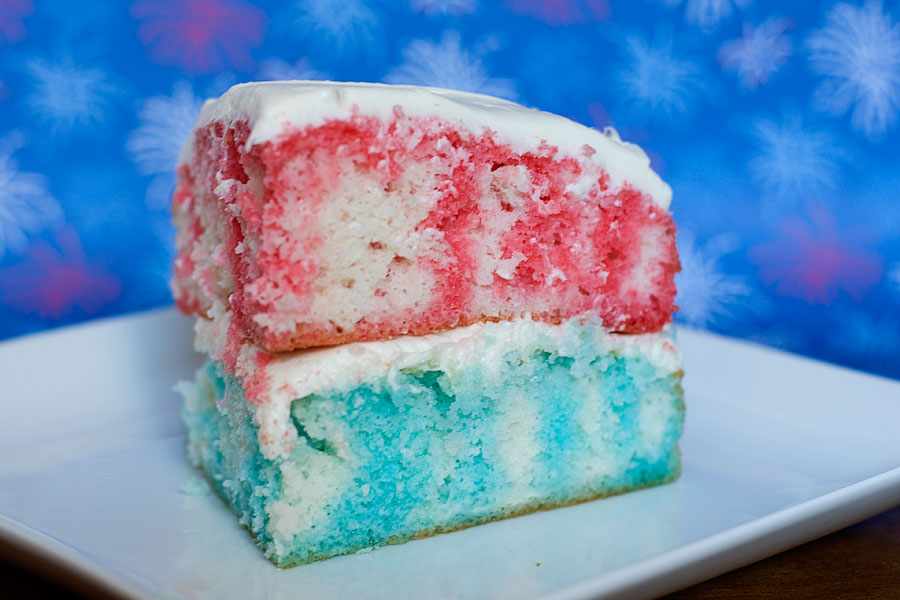 A friend of mine mentioned the concept of a Poke Cake to me many, many months ago. I was bewildered. She describe it as, "OK, you bake the cake, and then poke it, and then pour Jello over it, and then stick it in the refrigerator." Huh? I knew I had to give this one a try. Cake + Jello? Yes, please. This version is specific to the 4th of July, but you could use any Jello flavor(s) you'd like!
Red & Blue Poke Cake
Recipe source: Kraft Foods
Print Recipe
1 package white cake mix (plus required oil, eggs)
1 package red Jello (I used strawberry)
1 package blue Jello
Store-bought frosting or a tub of Cool Whip
1. Prepare cake batter as directed on box mix and bake two 8″ or 9″ cakes. Cool the cakes in the pan for 15 minutes. You will need two cake pans for this (if you want to be efficient; if time is no issue, you could use one).
2. Pierce each cake with a large fork or the point end of a meat thermometer at 1/2 inch intervals.
3. Empty the red Jello mix into one bowl and the blue in another. Add 1 cup of boiling water to each Jello mix; stir each color for 2 minutes or until the Jello is completely dissolved into the water. Stir in 1/2 cup cold water into each. Pour about half of the red mixture over one cake (don't use all of the Jello mixture, as it will make the cake too moist… it's just too much liquid for an 8″ inch cake). Pour about half of the red mixture over the other cake.
4. Refrigerate the cakes for at least 3 hours or overnight.
5. Remove the cakes from their pans and frost with icing or Cool Whip.
Note: These cakes will be incredibly moist! You can control this aspect by how much of the Jello mixtures you pour over your cakes. The more you use, the more moist the cakes will be.