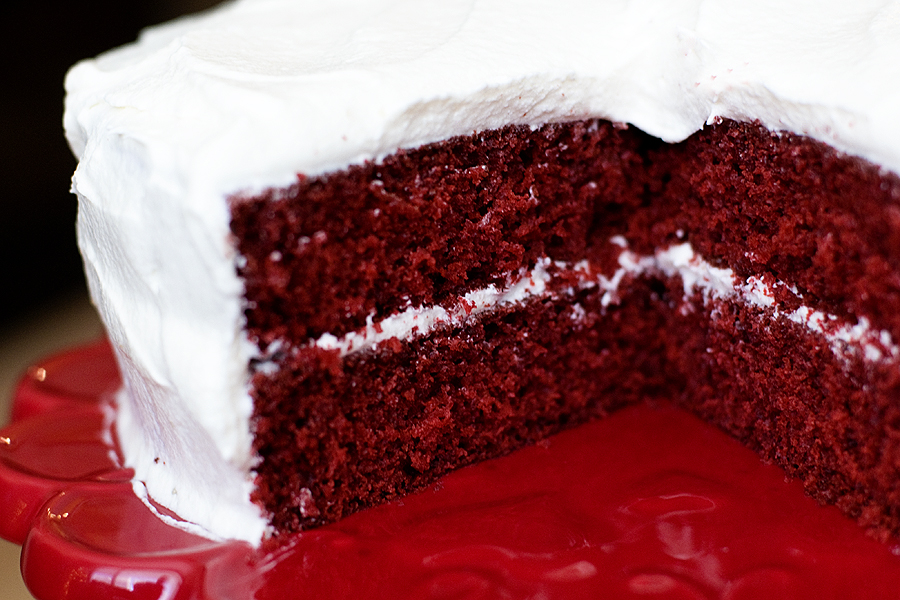 Red velvet cake reminds me of the holidays. How can it not? It's RED. And decadent. With a hint of cocoa. Covered in cream cheese frosting. Mmmm. It does, however, make me laugh and cringe just a bit to know that an entire bottle of red food coloring went into this cake! I LOVED the frosting from this recipe – it's much more fluffy and light than other cream cheese frostings. Enjoy!
Red Velvet Cake
Recipe source: Sugar Plum
Print Recipe
2 3/4 cups cake flour
2 tablespoons unsweetened cocoa powder
2 teaspoons baking powder
1 1/4 teaspoons baking soda
1/2 teaspoon salt
1 1/4 cups buttermilk
1/2 cup vegetable oil
1 ( ounce) bottle red food coloring
2 teaspoons vanilla extract
1/2 cup unsalted butter, softened
1 1/2 cups granulated sugar
3 large eggs
Frosting
1 1/3 cups granulated sugar
1 cup whole milk
1/3 cup all-purpose flour
1 cup unsalted butter, softened
8 ounces cream cheese, softened
1 1/2 teaspoons vanilla extract
1. Preheat oven to 350F. Butter and flour 2 (9-inch) round cake pans, or spray with nonstick-flour added cooking spray.
2. In a medium sized mixing bowl, sift together cake flour, cocoa powder, baking powder, baking soda and salt; whisk until combined.
3. In a small mixing bowl, whisk together buttermilk, oil, food coloring and vanilla until combined.
4. In a large mixing bowl, using a mixer on medium speed, beat together butter and sugar until light and creamy, about 2 minutes. Beat in eggs – about 2 minutes – until well combined. Gradually beat in flour mixture, alternating with buttermilk mixture (scraping down sides of bowl occasionally), until combined; continue to beat an additional 2 minutes or until ingredients are well incorporated and batter is smooth.
5. Divide batter into prepared cake pans. Bake at 350 degrees F, for 35-40 minutes, or until center of cake springs back when lightly touched, and outer edges pull away from pan. Cool pans on a wire rack for 10 minutes; run a knife around outside edges and invert cakes onto wire racks to cool completely.
To make the frosting:
1. Whisk together sugar, milk and flour in a medium sized saucepan; bring to a boil over medium heat, whisking frequently. Continue to boil for 1-2 minutes, whisking constantly, until thickened; cool in the refrigerator or freezer until completely chilled.
2. In a large mixing bowl, using a mixer on medium speed, beat together butter and cream cheese until creamy, about 1-2 minutes. Beat in chilled milk mixture and vanilla, until well combined and fluffy, about 2-3 minutes.
3. To assemble the cake: spread frosting evenly over layers, sides and top of cake.