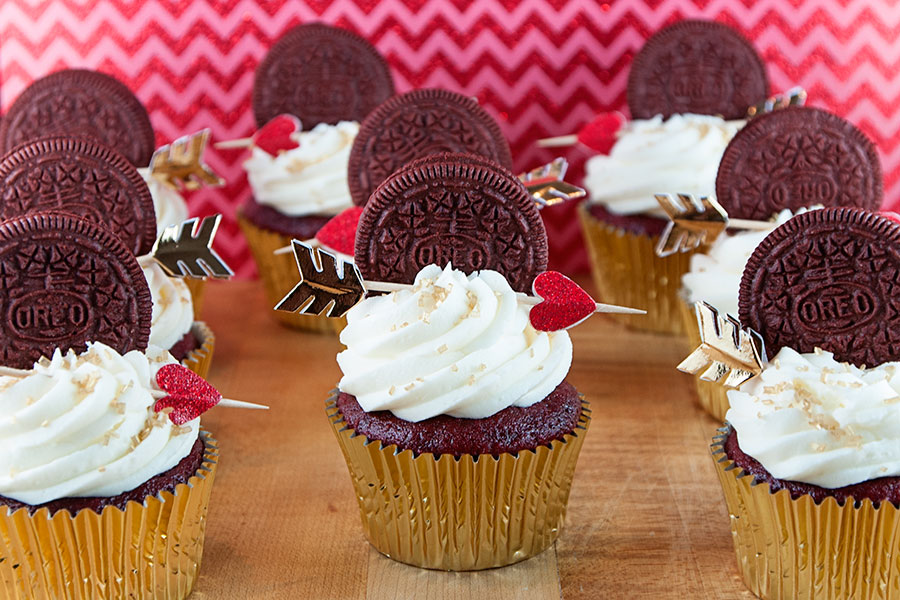 I have a secret. Most of my friends and family know this, but I've never said it publicly on my blog (at least I don't think I have). Here it is: I roll my eyes at the thought of red velvet cake. I know, I know. But I DON'T GET IT. It's cake… with a tablespoon of cocoa powder and a bottle of red food coloring! What is so magical about this?!
I don't hate red velvet, per se. But I just don't get it and I think those of you who go all happy jazz hands over it should have your head examined. Having said that, just because I don't get it doesn't mean that I'll never feature it on my blog. I don't get the appeal of coconut, milk, or carrots either — but hey, I know many of you love them.
Nabisco decided to make red velvet Oreos for the Valentine's Day season. Apparently they are a limited time only product, so I hope you are able to give them a try before they disappear from the stores. FYI — I found mine at Target.
Red Velvet Oreo Cupcakes
Print Recipe
For the cupcakes:
1 box red velvet cake mix (plus required oil + eggs)
Gold sprinkles
Valentine's Day decorations (I found the arrows at Williams-Sonoma)
Cupcake liners
1 package red velvet Oreos
For the cream cheese icing:
8 ounces (2 sticks) unsalted butter, room temperature
12 ounces cream cheese, room temperature
1 pound (4 cups) confectioners' sugar, sifted
3/4 teaspoon pure vanilla extract
A disposable pastry bag + a large star tip
1. Make the red velvet cupcakes according to box directions. Allow them to cool completely before frosting.
2. Make the icing: beat butter and cream cheese with a mixer on medium-high speed until fluffy, 2 to 3 minutes. Reduce speed to low. Add sugar, 1 cup at a time, and then vanilla; mix until smooth. (Can be refrigerated for up to 3 days; before using, bring to room temperature, and beat until smooth.)
3. Pipe the icing onto the cupcakes using a disposable pastry bag and a large star tip.
4. Place one red velvet Oreo on top of each cupcake.
5. Decorate with gold sprinkles + Valentine's Day decorations.