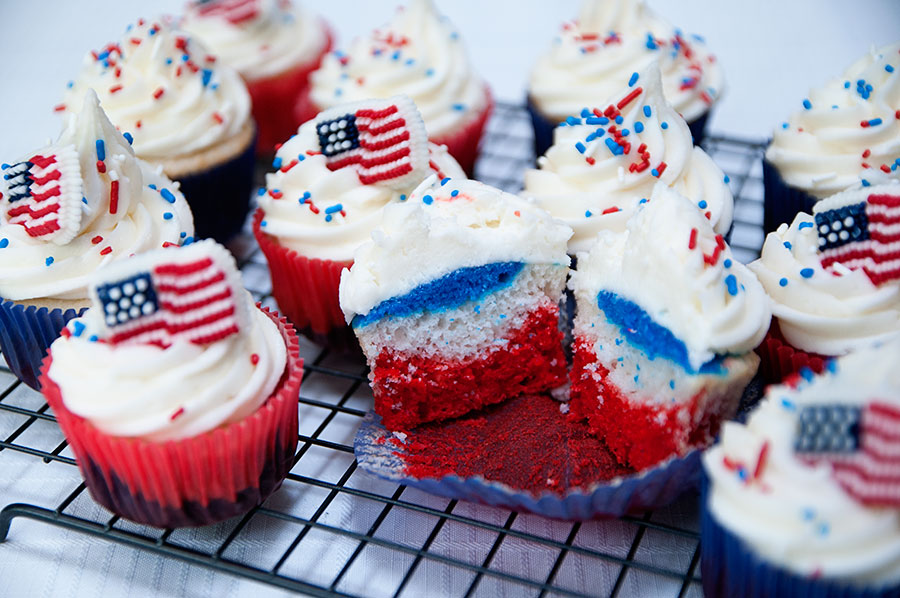 Okay 4th of July party people, you want something easy easy easy easy easy to make? These are for you! You can impress all of your friends and family with these pretty cupcakes and secretly be saying to yourself, "pfft, I could have made 'em in my sleep." I used a boxed cake mix for these because boxed cake mixes are reliable, simple, and universally loved.
I hope you all have a wonderful holiday!
Red White & Blue Cupcakes
Print Recipe
1 box white cake mix (plus the required oil + eggs)
Red and blue food coloring (I used AmeriColor Super Red and Wilton gel for the blue)
1 batch of buttercream icing (my favorites are listed here; or you can use store-bought icing)
Decorations (optional; I used little sugar flags made by Wilton)
1. Line two muffin tins with cupcake liners and preheat oven according to boxed cake mix instructions.
2. Make cupcake batter according to directions on the box.
3. Divide the batter into three bowls; use the food coloring to dye one batch of batter red, the other blue, and leave one batch alone.
4. Spoon a few tablespoons of red batter into each cupcake liner; then a few tablespoons of white batter; then a few tablespoons of blue batter. You could do the reverse as well, starting with the blue batter and ending with the red. It's up to you.
5. Bake the cupcakes according to the directions on the box. Allow the cupcakes to cool completely on wire racks.
6. Ice the cupcakes however you'd like. I used a large star tip — then I topped each cupcake with a flag decoration and/or red, white, and blue sprinkles.