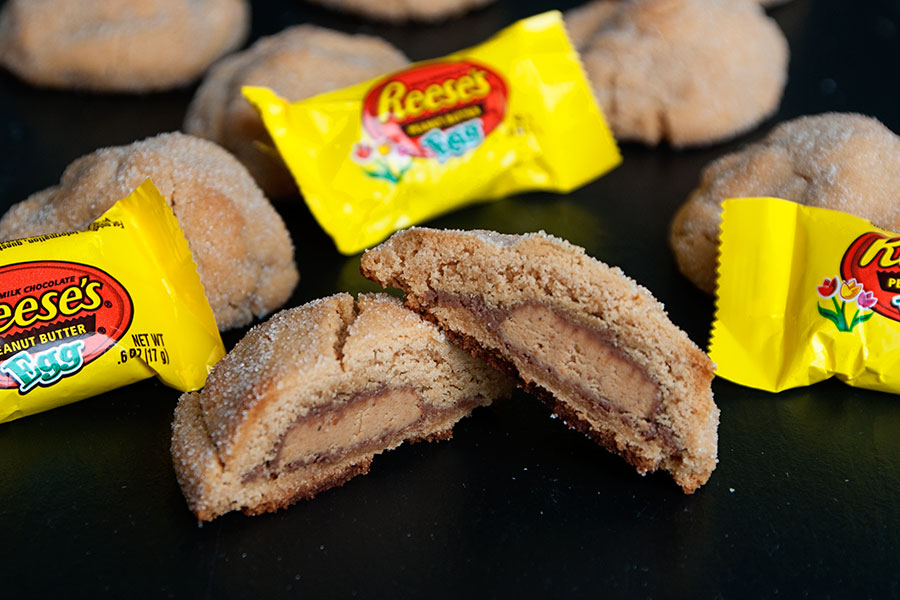 Oh sweet baby Jesus, these cookies. I am usually a big fan of Reese's peanut butter cups — but I think there is something extra magical about the egg version. It's like the ratio of chocolate to peanut butter is better. Something is different about them! (anyone else feel this way? Or is it just me? Anyone? Bueller?)
Another cool thing about these cookies is that no flour is involved! Good for all of you who are trying to avoid gluten (though I'm not sure if the peanut butter eggs contain gluten or not).
Reese's Peanut Butter Egg Cookies
Recipe source: Bake at 350
Print Recipe
A bag of Reese's Peanut Butter Eggs
2 cups smooth peanut butter (don't go organic/all-natural/whatever – stick with Skippy or JIF!)
2 cups sugar
2 eggs
2 teaspoons baking soda
sanding sugar
1. Place the peanut butter eggs in the freezer to chill while you make up the dough.
2. Preheat oven to 375 and line cookie sheets with parchment paper.
3. Beat the peanut butter, sugar, eggs and baking soda together until smooth.
4. Scoop out 1/4 cup dough. Divide the scoop in half and shape one half into an oval large enough to make a "bed" for the egg.
5. Place the egg on top, them cover with the remaining dough, pressing around the egg to fully cover. Sprinkle with sanding sugar.
6. Bake for 12 minutes, cool on the pan for 5 minutes, then remove to a cooling rack to cool completely.