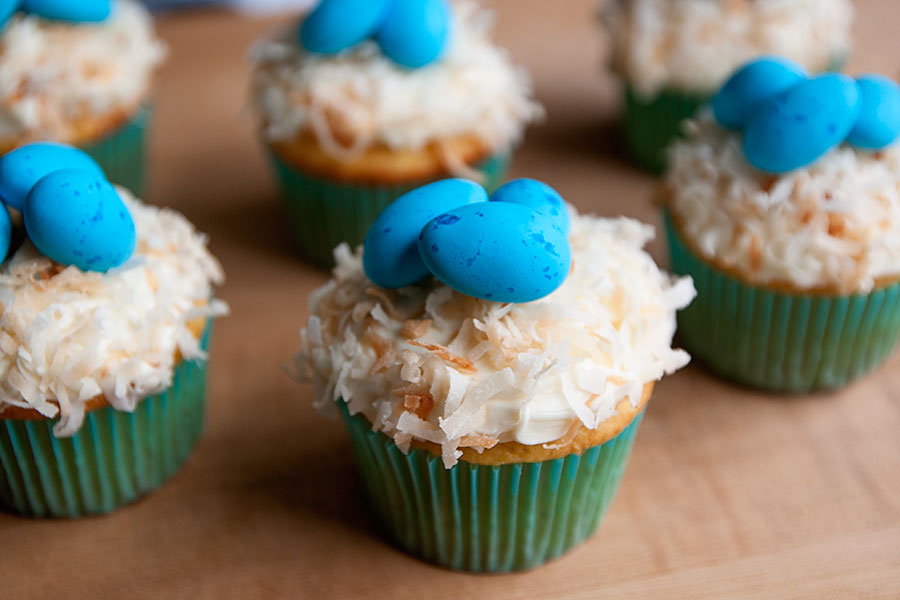 Coconut is one of my most hated foods. But look at the cuteness of these cupcakes!! I may dislike coconut, but I love robin egg candy…and that beautiful color blue. These cupcakes are ideal for those of you who aren't confident in your decorating or piping skills. They're also ideal for those of you who enjoy coconut. You crazy, crazy people.
Robins' Nests Coconut Cupcakes
Recipe source: The Novice Chef
Print Recipe
For the cupcakes:
1 can coconut milk (do not shake)
1-1/2 cup flour
1-1/4 teaspoon baking powder
1/2 teaspoon baking soda
1/2 teaspoon salt
2 large eggs
3/4 cup granulated sugar
1/4 cup vegetable oil
1 teaspoon coconut extract
1 teaspoon almond extract
1/2 cup buttermilk
For the frosting:
To save time, I used a tub of store-bought vanilla icing. If you'd like to make coconut icing from scratch, there is a great recipe here.
For the decorating:
2-3 cups shredded, sweetened coconut, toasted
Robin egg candies (mine are from a specialty candy shop here in Wisconsin)
1. Preheat oven to 350°F. Line a cupcake tin with liners. Set aside.
2. Open can of coconut milk that has not been shaken. There will be a thick cream sitting on top. Measure out 3/4 cup of the cream. Set aside.
3. In a medium bowl, sift together flour, baking powder, baking soda and salt. Set aside.
4. In stand mixer, mix eggs and sugar. Beat in vegetable oil, coconut extract and almond extract.
5. Alternate dry ingredients (flour mixture) and buttermilk and the coconut cream (from the can of coconut milk), mixing until fully combined.
6. Fill cupcake liners 3/4 full and bake for 15-17 minutes, until a toothpick inserted in the center comes out clean. Let cool for 5 minutes then transfer cupcakes to cooling rack and let cool completely.
7. Toast the coconut: spread the shredded coconut out onto a foil-lined baking sheet. Bake at 350F for about 5 minutes. Important: oven temperatures may vary. Check on your coconut! You may need to bake it for a shorter or a longer period of time! You want it to be lightly toasted.
8. Decorate: spread vanilla icing on top of each cupcake. Dip the cupcakes into the toasted coconut. Top with three robin eggs.
Makes 14-18 cupcakes.