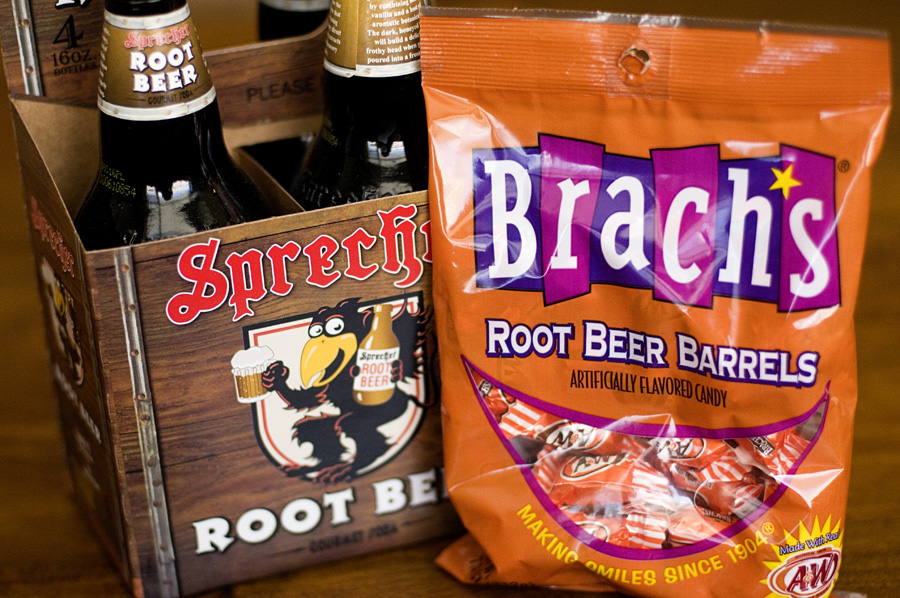 I found this recipe in Taste of Home magazine (ahh, good ol' Taste of Home). I was immediately intrigued. Root beer cupcakes? I'd never heard of such a thing. But being a fan of root beer AND cupcakes, I had to give them a try. Root beer reminds me of summer and my childhood. My dad used to take me one of our local drive-in restaurants (that still has carhops on rollerskates!) – and I'd always order a huge mug of root beer. And fried cheese curds. The cheese curds aren't really relevant to this post, but I just had to mention them. Cause oh, they are so good.
These cupcakes really do taste like root beer. Try them, close your eyes, and think of summertime.
Root Beer Cupcakes
Recipe source: Taste of Home
Print Recipe
1/2 cup butter, softened
1 cup packed brown sugar
2 eggs
2 cups all-purpose flour
1 teaspoon baking powder
1/8 teaspoon baking soda
1/8 teaspoon ground cinnamon
1/8 teaspoon ground allspice
1 cup root beer
Frosting:
1-1/2 cups whipped frosting (I used store-bought)
12-18 root beer barrel candies, crushed (I used a food processor for this step)
1. Preheat oven to 350F and line a muffin tin with paper liners.
2. In a large bowl, cream butter and brown sugar until light and fluffy. Add eggs, one at a time, beating well after each addition.
3. In a separate bowl, combine the flour, baking powder, baking soda, cinnamon, and allspice. Whisk to mix.
4. Gradually add the dry mixture to the creamed mixture, alternating with the root beer; beat well after each addition.
5. Fill muffin cups 2/3 full. Bake for 18-22 minutes or until a tester comes out clean. Cool on a wire rack.
6. Mix the frosting and crushed candies; frost cupcakes.
Makes 12 cupcakes.