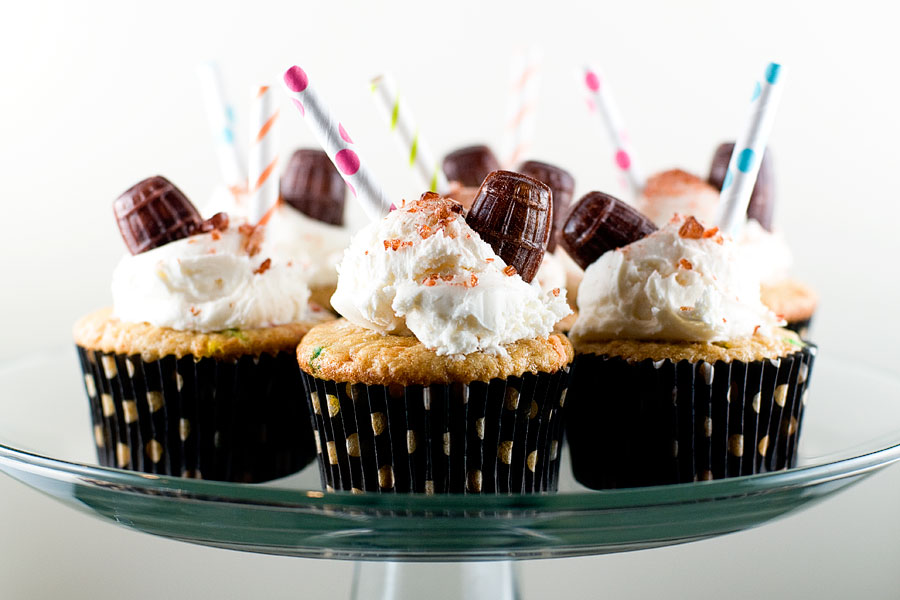 I'm back! My almost-month long hiatus is over, my first year of law school is finished, and I'm celebrating summer. OK, so Memorial Day isn't even here yet — but it's basically summertime. I mean, it was in the 80s yesterday. Close enough.
A staple of summertime is the root beer float (or black cow, as it's commonly called around here). There's a local drive-in in my hometown of Oshkosh that makes the BEST root beer. If you ever find yourself in Oshkosh (unlikely, I know), be sure to visit Ardy and Ed's — their root beer is delicious, the rest of the menu is mediocre, but the retro atmosphere cannot be beat. We pay more and go out of our way to experience the past, don't we? Nostalgia is oddly powerful.
Here's a recipe for all of you root beer lovers. The hardest part about making these was finding the candy root beer barrels!
Root Beer Float Cupcakes
Recipe source: Midwest Living February 2013
Print Recipe
1 box yellow cake mix (all I had was a funfetti mix, so I used that and it worked)
3 eggs
1 cup root beer (don't use diet)
1/3 cup vegetable oil
4-1/2 teaspoons root beer flavoring
1 tub of store-bought vanilla frosting
~ 24 root beer barrel candies
Straws for decoration (optional)
1. Preheat oven to 350F. Line muffin tins with paper liners.
2. In a large mixing bowl, beat cake mix, eggs, root beer, oil, and the root beer flavoring on low speed until combined. Beat on medium to high speed for 2 minutes (batter will be thick).
3. Divide batter among prepared muffin tins, filling each cup 2/3 full.
4. Bake for 12-15 minutes or until a tester comes out clean. (Mine baked for about 20 minutes, so you may need a longer baking time) Cool the cupcakes on a wire rack.
5. Once cooled completely, frost the cupcakes. I used a small cookie scoop to place a scoop of chilled frosting on each cupcake. I wanted the frosting to look like a scoop of ice cream — chilling the frosting in the refrigerator beforehand helps with this.
6. Top each cupcake with a root beer barrel. If you'd like, crush a handful of barrels in a food processor or with a meat mallet and sprinkle the pieces on top of each cupcake. Decorate with a straw.
Makes about 24 cupcakes.