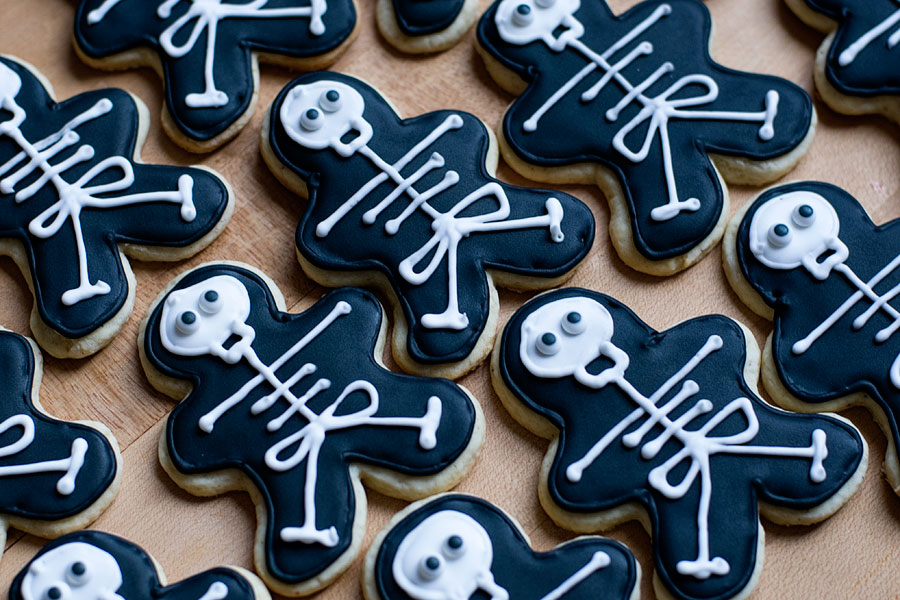 Here's the counterpart to yesterday's post! I love skeletons. I've always been fascinated by them – I think they are eerie and beautiful. These cookies are obviously a cartoon-ish version of a skeleton – and they weren't that difficult to do. [And this is saying a lot coming form a girl that is not what you'd call fabulous in her piping skills!]
Skeleton Cookies
Print Recipe
For the cookies:
2 cups butter
2 cups sugar
2 large eggs
1 teaspoon salt
6 cups flour
2 teaspoons baking soda
1 cup sour cream
2 teaspoon nutmeg
Beat butter and sugar. Add eggs, sour cream, and nutmeg. Add dry ingredients gradually. Chill the batter overnight or for at least 4 hours. Roll out dough and cut with a skeleton cookie cutter (a gingerbread man cookie cutter will also do the trick!). Bake at 350F until golden, about 8-10 minutes. Note: Feel free to use any sugar cookie recipe you'd like. I chose this one because it's my favorite.
For the decorating:
You'll need water, meringue powder, powdered sugar, and AmeriColor's Super Black coloring. As well as a small round pastry tip and a plastic bottle for flooding. I outlined each skeleton with black icing. Once the outlines were set, I flooded each with black icing. Once the cookies had dried completely, I piped the "bones" onto each cookie. I don't know how to go into detail on that — you'll just have to follow along from what you can see on the photo. All it involves are simple lines and shapes. I placed candy eyes on each as well. If you don't have candy eyes, you can just pipe black icing onto the cookies for eyes.
As always, I refer you to Annie's post about decorating with royal icing. She's got it down to a science and there's no point in re-inventing the wheel here!