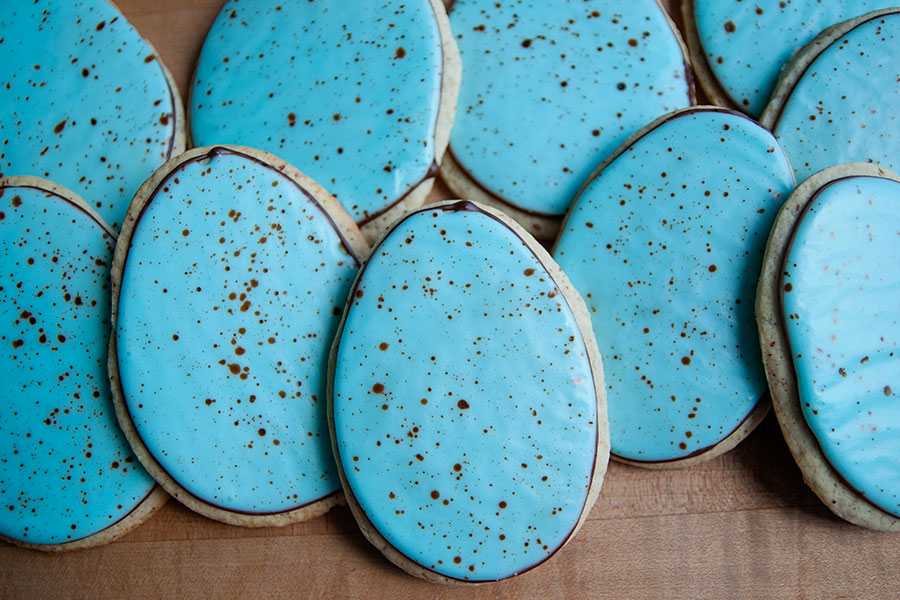 Speckled eggs! A sign of spring. I always feel twinges of sadness when I see one of these during the spring season — usually because the egg is on the ground, cracked, and the baby bird had no chance. This post has taken a turn for the morbid, huh? But anyway! Let's focus on all the baby birds who do hatch from their beautiful blue eggs and enjoy a healthy and fun bird life.
These cookies were pretty easy to make — but here's my warning: you'll make a MESS with the speckling process! Feel free to make your eggs any color you'd like. I stuck with a robin egg blue because I think it's one of the prettiest colors in nature.
If you are a new to decorating with royal icing, here are some helpful tips and links:
I used my grandma's sugar cookie recipe, which is listed below.  Another good cut-out cookie recipe can be found at Bridget's wonderful Bake at 350.
I used a royal icing recipe from Annie's Eats, which is listed below.
If you are new to decorating with royal icing, please visit this post by Annie's Eats, which will teach you about outlining and flooding.  Bake at 350 is also a great resource for cookie decorating and ideas (I love Bridget's book, too!).
Here are the specifics on how I made these cookies:
I used a Wilton comfort-grip egg cookie cutter.
I dyed a small amount of royal icing brown, using AmeriColor's brown dye.
I dyed a larger amount of royal icing blue, using a combination of Wilton's sky blue and leaf green. There's no perfect formula I can give you for this specific color. Just add a little sky blue gel coloring at a time, mix, and see if you need to add more to make the color more vibrant. A little will go a long way, so start slow. Once I achieved the blue color I wanted, I added just a little bit of leaf green. Like, a toothpick-ful. This will help to make the robins egg blue color.
I outlined each egg with brown icing and flooded with blue icing. Allow the icing to dry completely before moving on to the speckling process.
You will need a small bowl (a ramekin would be best) and a paintbrush. I bought a pack of cheap paintbrushes at Target. Add about a tablespoon of water to the small bowl or ramekin, then add a few drops of brown food coloring. Mix well. Dip the paintbrush into the brown water and use your finger to flick the liquid onto the cookies. (Is "flick" a technical term?!)
A few pieces of advice…

You will make a mess. So cover your working area with newspapers or paper towels. There is no neat-and-tidy way to do the speckling process.
You might want to cover your hand with a latex glove or plastic bag — because the brown water will dye your finger tips. Just sayin'. Ahem.
You may want to practice the speckling first. I tried it out using my kitchen sink first. Just to make sure that I had the right technique. And because you're flicking the brown water into the sink, it makes for easy clean up!

If you have questions, please leave me a comment! I'm happy to help.
Omi's Sugar Cookies
Print Recipe
1 cup butter
1 cup sugar
1 large egg
1/2 teaspoon salt
3 cups flour
1 teaspoon baking soda
1/2 cup sour cream
1 teaspoon nutmeg
Beat butter and sugar. Add egg, sour cream, and nutmeg. Add dry ingredients gradually. Chill the batter overnight or for at least 4 hours. Roll out dough and cut with cookie cutters. Bake at 350F until golden (in true fashion, my grandma didn't give a specific baking time. I baked the cookies for about 8 minutes).  This recipe will make about 18 egg cookies (but this will depend on the size of your cookie cutter!)

White Royal Icing
4 cups powdered sugar, sifted
2 Tablespoons meringue powder
5 Tablespoons water
Directions:
Combine all ingredients in the bowl of a stand mixer fitted with the paddle attachment. Mix on low speed until the sheen has disappeared and the icing has a matte appearance (about 7-10 minutes).  Transfer the contents of the mixing bowl to an air-tight container. This will be the stiffest consistency of the icing, and at this point it is still too stiff to use for decorating. Add water a very small amount at a time and stir by hand until fully incorporated. Continue until the icing has reached a consistency appropriate for piping.
You'll likely need two batches of this icing — but if you're making 12 or fewer cookies, you might be able to work with just one batch.