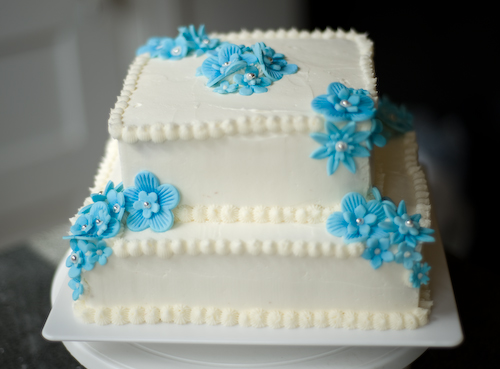 I made this cake to celebrate my  sister-in-law's (insert mystery number here) birthday this past weekend. She had requested an almond cake with white frosting and raspberry filling and this is what I came up with. The flowers are made out of gumpaste and dusted with luster dust, though I feel like none of it seemed to adhere to the flowers very well. I put silver dragees in the centers to dress it up a bit, but I really wished I has spent more time smoothing the top…oh well. I guess I know what the experts mean now when the tell you to decorate with a plan. The original pound cake recipe is from Paula Deen (found here), but I tweaked the flavoring a bit. In truth, I don't think it was well suited for a layer cake because it seemed a little dry.
Almond Sour Cream Pound Cake
Print Recipe
1 c. butter
3 c. sugar
1 c. sour cream
3 c. all-purpose flour
1/2 tsp. baking soda
6 eggs
1/4 tsp. orange extract
1/2 tsp. butter flavoring
1 tsp. almond extract
1/2 tsp. nutmeg
Directions
Preheat oven to 325 oF. Grease and flour pan.
Cream butter and sugar, then add sour cream. Sift dry ingredients together. Add to butter mixture alternately with eggs. Add extracts and nutmeg. Stir to combine. Pour into prepared pan.
Bake for 1 hour and 20 minutes in tube pan or 45 minutes divided between 6″X6″ and 8″x8″ pans for layer cake. Cool cake in pan for about 10 minutes and then turn out onto a wire rack. Torte and frost cake when completely cooled.