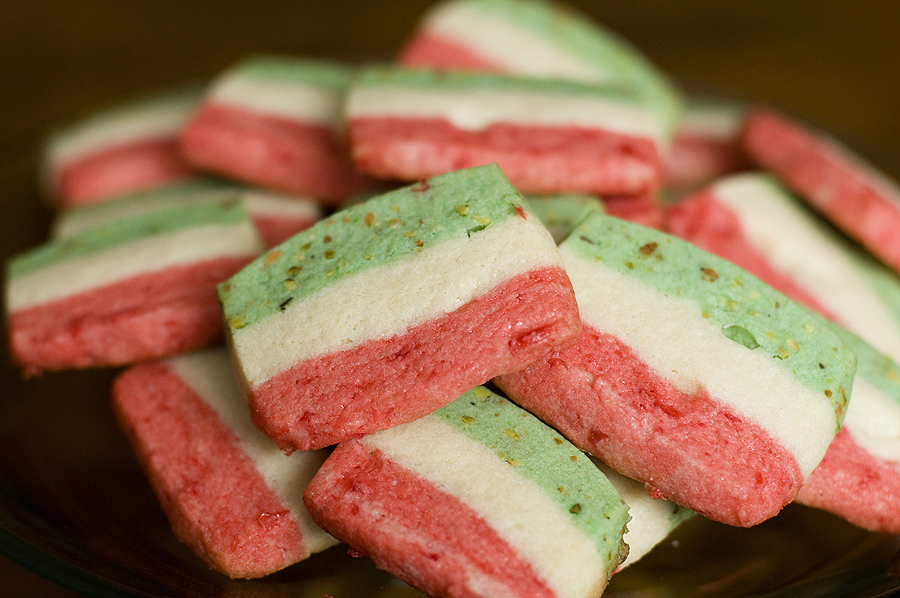 Spumoni! Spumoni is an Italian ice cream made with layers of different colors and flavors. Cherry and pistachio are common flavors — but chocolate can also be used. I love anything spumoni-related, because I love cherries and I love pistachios. Also, August 21st is National Spumoni Day in the United States — and August 21st happens to be my birthday, so it's fate! ;)
Spumoni Cookies
Recipe source: Land O' Lakes
Print Recipe
1 cup sugar
1 cup butter, softened
1 egg
1 teaspoon vanilla
2-1/2 cups all-purpose flour
1/4 teaspoon baking powder
1/4 teaspoon salt
1/4 cup finely chopped maraschino cherries (I used a food processor to chop them)
1/4 cup finely chopped pistachios (again, I used a food processor)
2-3 drops of red and green food coloring (optional)
1. In a large mixing bowl, combine sugar, butter, egg, and vanilla. Beat at medium speed, scraping bowl often, until creamy (2-3 minutes). Reduce speed to low; add flour, baking powder, and salt. Beat until well mixed (1-2 minutes).
2. Divide dough into thirds. To one third, add cherries and red food coloring; mix well. To second third of dough, add pistachios and green food coloring; mix well. Leave the remaining third of dough as-is.
3. Between two sheets of waxed paper, shape each third of dough into a 7×6-inch rectangle. On a large sheet of plastic wrap, layer pink, white, and green dough; press down gently and wrap securely. Refrigerate until firm (about 2 hours or overnight).
4. Preheat oven to 350F.
5. With a sharp knife, cut rectangle lengthwise into three 7×2-inch pieces. Cut each piece crosswise into 1/4-inch slices. Place slices 1 inch apart on parchment-lined baking sheets.
6. Bake for 9-11 minutes, or until edges just begin to brown.
OK, personally, I think the directions about how to layer/cut the cookies are a little nebulous. Here's a photo of how I made the cookies — pardon the low light and less-than-stellar photo, I was making these at night!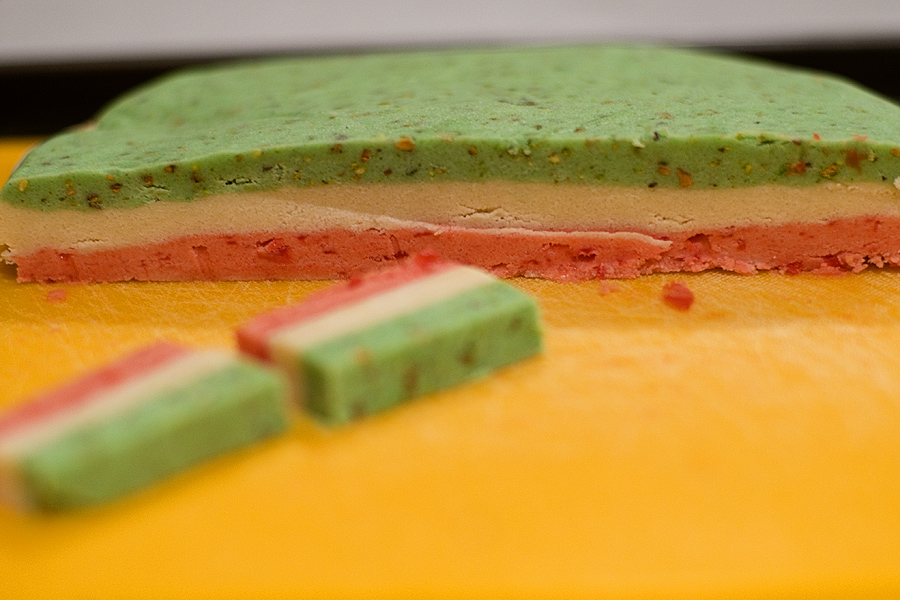 I didn't worry about exact measurements. I rolled out each section of dough to a thickness of about 1/2 inch. I then layered them all on top of one another and wrapped in plastic wrap. After refrigeration, I cut slices of the dough as you can see above.