I know, I know, I know. Christmas is over. I really wanted to make this tree, so I did. A few weeks late. :) I bought the star cookie cutter set from Crate & Barrel. I made two cookies for each size star and stacked them all up to look like a tree!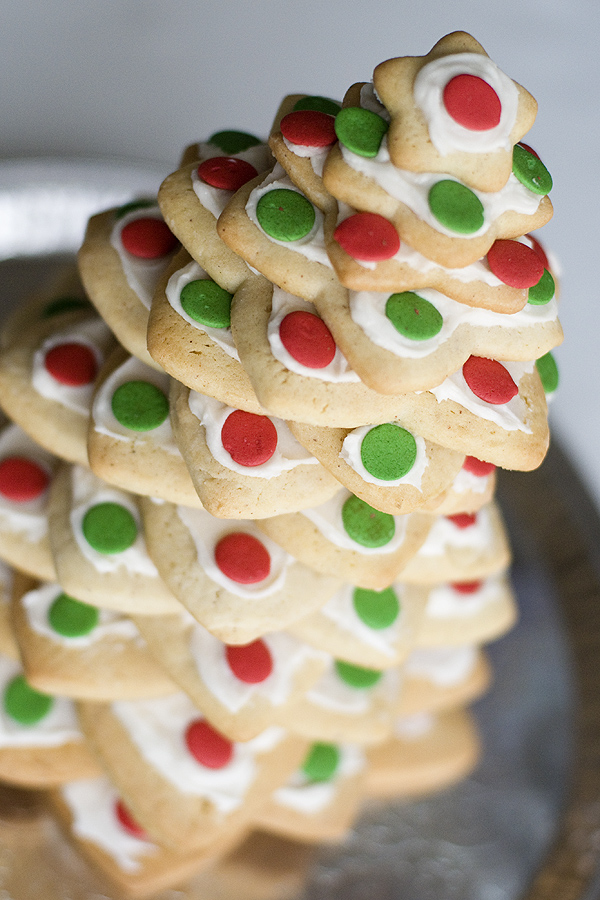 I used my grandmother's sugar cookie recipe, which is my absolute favorite.
Omi's Sugar Cookies
Print Recipe
2 cups butter
2 cups sugar
2 large eggs
1 teaspoon salt
6 cups flour
2 teaspoons baking soda
1 cup sour cream
2 teaspoon nutmeg*
Beat butter and sugar. Add eggs, sour cream, and nutmeg. Add dry ingredients gradually. Chill the batter overnight or for at least 4 hours. Roll out dough and cut with cookie cutters. Bake at 350F until golden (in true fashion, my grandma didn't give a specific baking time. I baked the cookies for about 8 minutes).
*The nutmeg definitely gives these cookies a distinct flavor.
Omi's Frosting
2 tablespoons shortening
1 tablespoon butter
1 teaspoon vanilla extract
1/4 teaspoon salt
5 tablespoons scalded milk
3 cups (or more) powdered sugar
Beat all ingredients together besides the powdered sugar. Gradually add the powdered sugar until you get a smooth and creamy consistency.