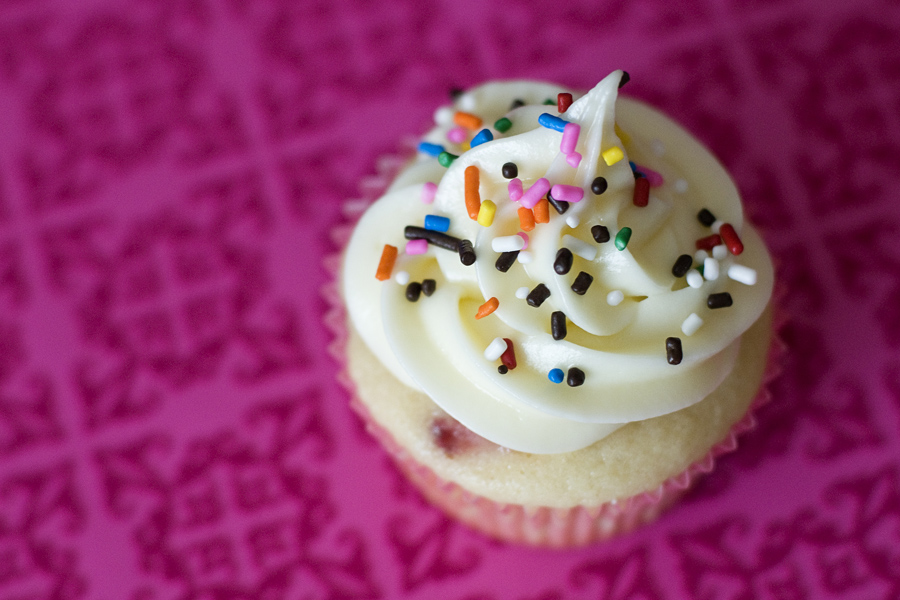 A family friend gave me some homemade strawberry jam (thanks again, Carol!) and I just had to make cupcakes with it! I found this recipe online and I think it's fantastic. The strawberry cupcakes filled with jam contrast nicely with the cream cheese frosting. Mmm.
Strawberry Jam Cupcakes
Recipe source: Willow Bird Baking
Print Recipe
1.5 cups plus 2 tablespoons all-purpose flour, divided
3/4 cup granulated sugar
1.5 teaspoons baking powder
1/4 teaspoon salt
1/8 teaspoon baking soda
1/4 cup butter, melted
1 large egg
1/2 cup buttermilk
1/2 cup milk
1/2 teaspoon vanilla
3/4 cup fresh or frozen strawberries, thawed
fresh strawberry jam for filling
1. Preheat oven to 350°. Place 12 paper muffin cup liners into muffin cups.
2. Spoon 1.5 cups flour into dry measuring cups; level with a knife. Measure 1 tablespoon flour; level with a knife. Sift together 1.5 cups flour plus 1 tablespoon flour, granulated sugar, baking powder, 1/4 teaspoon salt, and baking soda in a large bowl. Combine melted butter and egg in another large bowl; stir with a whisk. Add buttermilk, milk, and vanilla to butter mixture; stir with a whisk. Add buttermilk mixture to flour mixture, stirring just until moist.
3. Toss chopped strawberries with remaining 1 tablespoon flour. Fold berries into batter. Spoon batter into prepared muffin cups. Bake at 350° for 25 minutes or until a wooden pick inserted in center of the cupcake part comes out clean. Cool in pan 5 minutes on a wire rack; remove from pan. Cool completely on wire rack. When cool, core a hole out of the middle of each cupcake. Spoon in fresh strawberry jam (I use a pastry bag for this.. it's easier!)
Cream Cheese Frosting:
16oz  cream cheese, softened
2 sticks butter, softened
1 teaspoon vanilla extract
4 cups powdered sugar sugar
In a large mixing bowl, beat the cream cheese, butter and vanilla together until smooth. Add the sugar and on low speed, beat until incorporated. Increase the speed to high and mix until very light and fluffy. Frost completely cool cupcakes, using a pastry bag if available.