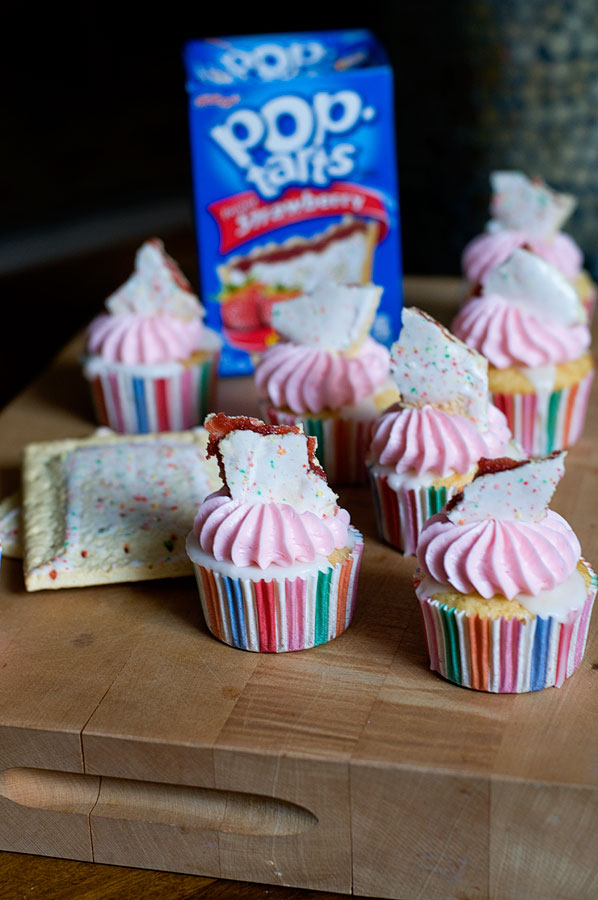 There were a few foods that I wasn't allowed to eat when I was a kid. Not that my parents were overly snobby about food (they weren't), but my mom cringed at the thought of me eating two things: Kraft Mac 'n' Cheese and Pop Tarts. Nope. No way. No how. Wasn't going to happen.
I was introduced to Kraft Mac 'n' Cheese at my babysitter's house – it was like a whole new world! And I was introduced to Pop Tarts when I was in middle school. I'm not a huuuuge Pop Tart fan anymore, but I loved the idea of making these cupcakes — a celebration of all the junk food we weren't allowed to eat as kids! :)
Strawberry Pop Tart Cupcakes
Recipe source: Your Cup of Cake
Print Recipe
Vanilla Cake:
1 box white cake mix
2 eggs
2 egg whites
1/4 cup oil
1 cup buttermilk
1/3 cup sour cream
3 teaspoons vanilla extract
Glaze:
2 Tablespoons hot water
1 1/4 cup powdered sugar
Strawberry Buttercream:
1 cup butter, softened
2 teaspoons vanilla extract
1/4 cup freeze dried strawberries, finely crushed in food processor
3-4 cups powdered sugar
*OK, I cheated here. I used store-bought icing with one of the new strawberry flavor packs that Duncan Hines (I think) sells. I'm in law school, I get busy, and I couldn't find freeze-dried strawberries in my grocery store.
1. Preheat oven to 350 degrees and line pans with cupcake liners.
2. In a large bowl, gently whisk eggs, egg whites, oil, buttermilk, sour cream and vanilla extract together.
3. Add cake mix and stir until smooth.
4. Fill cupcake liners 3/4 full and bake for 15-20 minutes, or until an inserted knife comes out clean.
5. Glaze: Combine all ingredients and use a fork to whisk until smooth. Use more powdered sugar to make thicker or more water to make thinner.
6. Dip the top of cooled cupcakes into glaze and let set.
7. Buttercream: Beat butter for 2 minutes. Add vanilla extract and freeze dried strawberries. Slowly add powdered sugar until you reach your desired consistency.
8. Pipe buttercream over glaze (once dried) and top with a piece of Pop Tart.