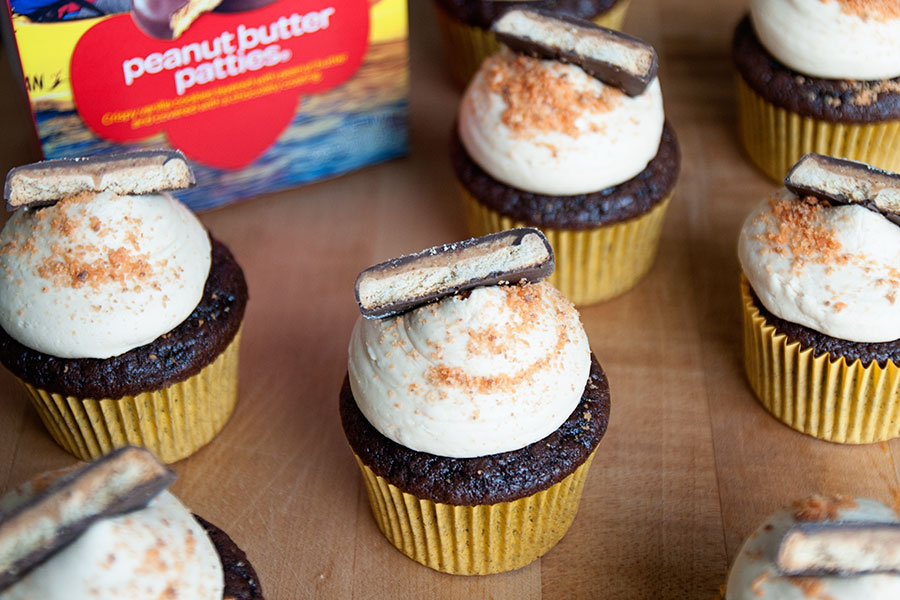 TAGALONGS! My favorite! So as I mentioned previously, the Girl Scouts set up shop at my local grocery store. On my first visit they were sold out of Tagalongs (a tragic day in my life), so I stocked up on Thin Mints. On my second visit (on Valentine's Day), they were stocked with all cookie varieties and were giving handmade Valentines to anyone who bought cookies. I nearly died from the cuteness. A hand-drawn and colored Valentine plus Tagalongs? I'LL TAKE ALL THE BOXES, PLEASE.
[side note: does anyone know why they're not branded as Tagalongs anymore? "Peanut Butter Patties" just isn't as charming. Update! Reader Jen told me that there are two different bakers – and one calls their product Tagalong, the other Peanut Butter Patties. Mystery solved!]
Much like my post about Thin Mints, I made homemade Tagalongs a few years ago — and made a cupcake version this year. I hope you are enjoying spring!
Tagalong Cupcakes
Recipe source: Modified from My Baking Addiction
Print Recipe
Cupcakes:
1 (18.25 ounce) package devil's food cake mix
1 (5.9 ounce) package instant chocolate pudding mix
1 cup sour cream
1 cup vegetable oil
4 eggs, lightly beaten
2 teaspoons pure vanilla extract
+ 36 Tagalong Cookies (24 for cupcake centers; 12 (each cut in half) for garnish)
Peanut Butter Buttercream Frosting:
3 sticks unsalted butter, softened
1 cup creamy peanut butter
2 tablespoons vanilla extract
2 pounds confectioners' sugar, sifted
6-8 tablespoons heavy cream (if using milk, amount will be less)
+ A few Butterfinger Minis, crushed, for garnish
Note: the original recipe (if you click on the link to My Baking Addiction) included a chocolate ganache. I left this out because I didn't have heavy cream or the right kind of chocolate. Instead I used Butterfinger crumbs to garnish the cupcakes. Feel free to do whatever you prefer!
1. Preheat oven to 350 degrees F. Line muffin tin with paper liners or spray with non-stick cooking spray.
2. In the bowl of a stand mixer or a large bowl with a hand mixer, add the cake and pudding mixes, sour cream, oil, eggs, and vanilla. Mix on medium speed for about 2 minutes until all ingredients are well combined and the batter is mostly smooth.
3. Spoon about 2 tablespoons of batter into 24 cupcake wells. Add a Tagalong cookie on top of the batter. Cover the cookie with one more tablespoon of batter in each well.
4. Bake in preheated oven for 18-22 minutes or until the tops of the cakes spring back when lightly touched. Allow cupcakes to cool inside muffin tins for about 10 minutes.
5. Remove cupcakes from muffin tins and allow to fully cool on a wire rack. Once cupcakes are cool, prepare your frosting.
For the Peanut Butter Buttercream Frosting:
1. In a large bowl with a hand mixer, or the bowl of a stand mixer, cream butter and peanut butter on medium speed until fluffy. Turn your mixer down to low speed and slowly add in the confectioner's sugar, and continue mixing until well blended.
2. Add vanilla and 4 tablespoons of heavy cream (I used milk). Blend on low speed until moistened. Add an additional 1 to 4 tablespoons of heavy cream (or milk) until you reach the desired consistency. Beat at high speed until frosting is smooth and fluffy
3. Pipe frosting onto cooled cupcakes.
4. Garnish with Butterfinger crumbs and a Tagalong cookie cut in half.
Makes about 2 dozen cupcakes.