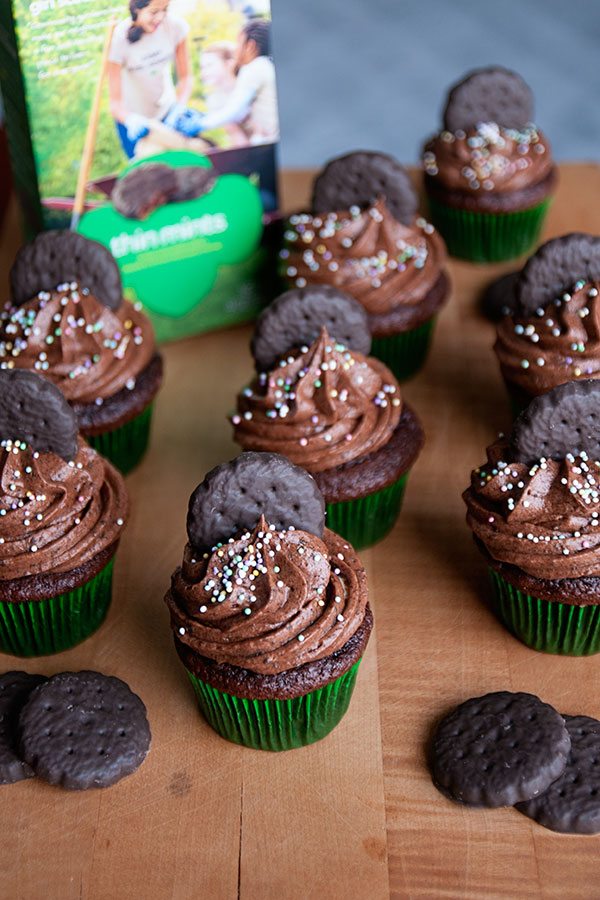 It's Girl Scout Cookie season!! Are the girls still selling the cookies or has that ended? I bought mine (*ahem* 5 boxes *ahem*) back in February. The scouts set up shop in my local grocery store and I just couldn't resist their cute faces + delicious cookies. Thin Mints have always been a favorite of mine (especially when frozen – anyone else do this?!). A few years ago I made homemade Thin Mints, but this year I decided to try a cupcake version. Enjoy!
Thin Mint Cupcakes
Recipe source: Your Cup of Cake
Print Recipe
Chocolate Cake:
1 box devil's food cake mix
3 eggs
1/2 cup butter, melted and slightly cooled (or oil)
1 cup buttermilk or milk
1/2 cup sour cream or plain yogurt
2 teaspoon vanilla extract
Thin Mint Frosting:
1 cup butter, softened
1/3 cup unsweetened cocoa powder
2 teaspoon vanilla extract
1 teaspoon peppermint extract
1/4 cup milk or sour cream
10 Thin Mint cookies finely crushed (I used a food processor to grind the cookies up)
2 1/2 to 3 1/2 cups powdered sugar
+ Extra Thin Mints for decoration
1. Preheat oven to 350 degrees and line pans with cupcake liners.
2. In a large bowl, combine eggs, butter, milk sour cream and vanilla extract until smooth.
3. Stir in cake mix.
4. Fill cupcake liners 3/4 full and bake for 16-20 minutes or until an inserted knife comes out clean. Place cupcakes on a wire rack to cool completely.
5. Thin Mint Frosting: Beat butter for 2 minutes. Add cocoa powder, vanilla extract, peppermint extract and milk and beat again. Add crushed cookies and slowly add in powdered sugar until you reach your desired consistency.
6. Pipe onto cooled cupcakes and top with sprinkles and extra cookies.