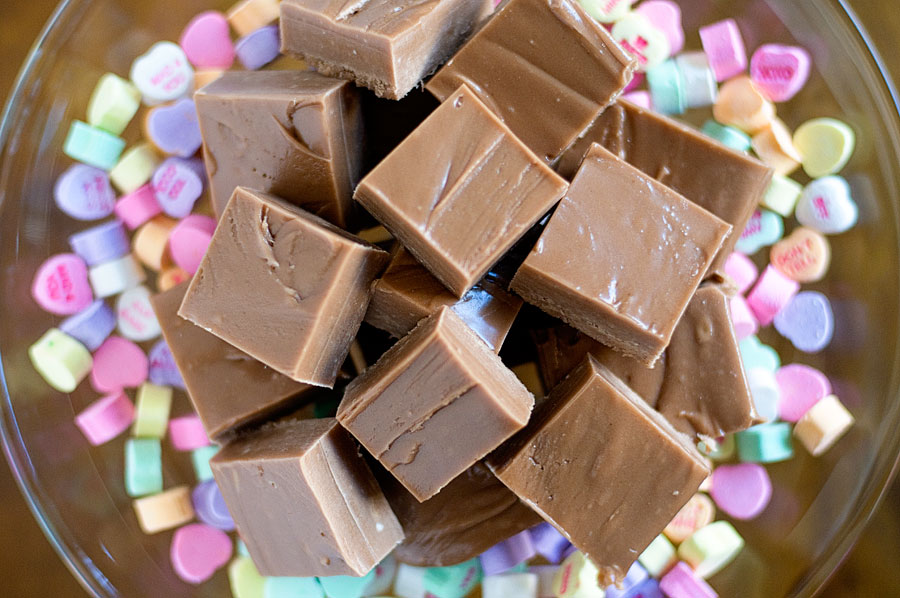 Tootsie Rolls rank high on my list of favorite candy. It's chocolate-y.. but not as fattening as real chocolate. Though all of that goes out the window now that we're going to make fudge out of them! Anyway. Did you know that Tootsie Rolls were the first penny candy to be individually wrapped? Or that 64 millions Tootsie Rolls are made each day? Or that the Tootsie Roll was invented in 1896 by Leo Hirschfeld (he used his daughter's nickname of "Tootsie" to name his candy)? I'm also a big fan of Tootsie Pops – the grape flavor being my favorite. Does anyone know if the company will actually send you free candy if you find a wrapper featuring the Indian and the shooting star? I'm sure it's just an urban legend.
In any case, here's a new twist on chocolate fudge. Tootsie Roll fudge!
Tootsie Roll Fudge
Recipe source: Taste of Home
Print Recipe
2 Tablespoons butter
2 cups Tootsie Roll midgees
2 Tablespoons peanut butter
3-3/4 cups powdered sugar
2 Tablespoons milk
1 teaspoon vanilla extract
1 cup chopped pecans (I left these out)
1. Line a 9×9″ square pan with foil. Grease the foil with nonstick spray.
2. In a heavy saucepan, melt the Tootsie Rolls, peanut butter, and butter over low heat, stirring constantly. Gradually stir in the powdered sugar, milk, and vanilla. The mixture will be very thick.
3. Spread into prepared pan. Refrigerate until cool. Using foil, remove fudge from pan and cut into small squares. Store in an airtight container.