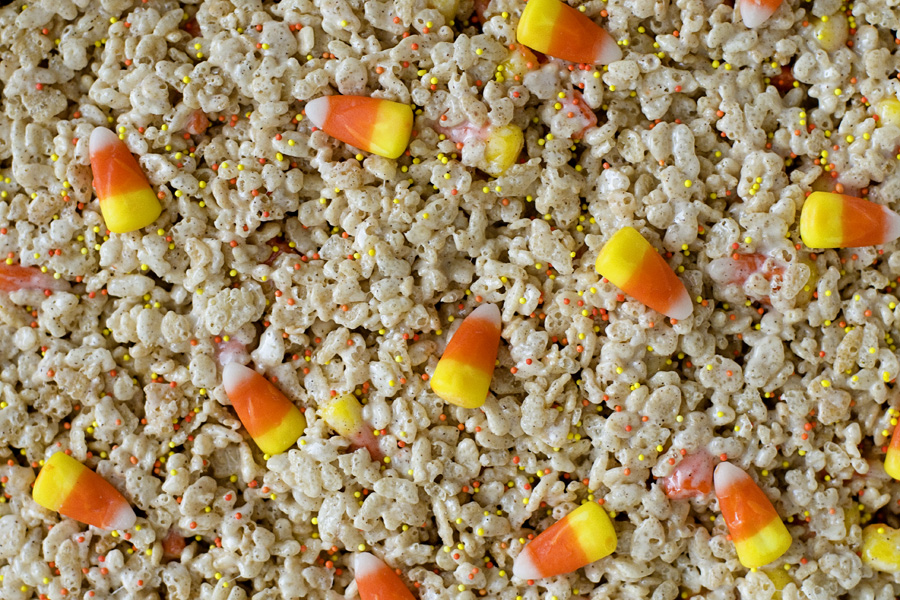 Rice Krispie treats rank high on my list of favorite baked goods (though, to be technical, no baking is actually involved!). I made these slightly modified treats for a movie night with my friends. They are super fast and easy to make!
Trick-or-Treat Rice Krispie Treats
Recipe source: sheknows.com
Print Recipe
3 Tablespoons butter
4 cups mini marshmallows
1 teaspoon pumpkin pie spice
1 teaspoon pure vanilla extract
5 cups rice cereal
1 cup candy corn, divided
Halloween sprinkles (optional)
1. Spray a 9×13″ baking pan with nonstick spray (or you can line the pan with parchment paper).
2. In a large saucepan, melt butter over low heat and stir in pumpkin pie spice. Add marshmallows and stir until completely melted. Remove from heat and stir in vanilla extract.
3. Add rice cereal and 3/4 cup candy corn – stir until well coated.
4. Press the mixture into the prepared pan (it helps to use a nonstick spray-coated spatula or spoon). Press remaining 1/4 cup candy corn into the top of the cereal bars & top with sprinkles. Cool for 2 hours and cut into bars.