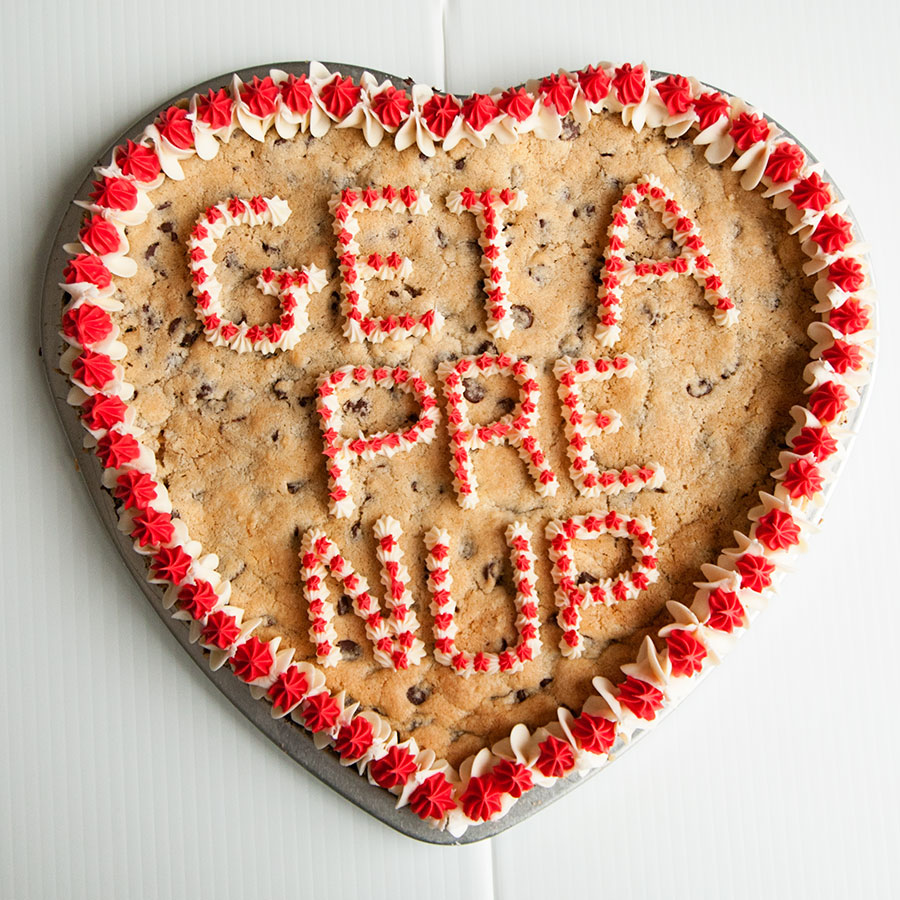 I took a family law class last semester (and I'm in another this semester) and the main lessons we all learned are as follows: everyone is going to get a divorce and every couple is going to end up hating each other.  Alright alright, that's a little harsh, I know.  But when you spend an entire semester learning about the dissolution of marriage — and reading cases about husbands and wives fighting all the time over everything, it's hard to be overly optimistic when you hear wedding bells ring.
I think the biggest thing we learn in law school is to be risk adverse. Prepare. Prepare some more. Think ahead. Cover your ass. And as my contracts professor once said, "You need to be pessimistic – all the time. You need to think of the worst case scenario and how you'd handle it."  When I decided to make this cookie cake, I wanted to write something funny on it — that best encapsulates Valentine's Day and my ever-increasing risk-adverse way of thinking.  And so the "get a pre-nup" cookie cake was born. ;) Hurrah for love and marriage and rainbows and butterflies! But get a pre-nup. Just sayin'.
Chocolate Chip Cookie Cake
Recipe source: dineanddish.net
Print Recipe
1 cup butter
1/2 cup sugar
2/3 cup brown sugar
2 eggs
1 teaspoon vanilla
2 cups flour, plus 4 tablespoons flour
1 teaspoon salt
1 teaspoon cream of tartar
1 teaspoon baking soda
2 cups semi-sweet chocolate chips
1. Beat butter and sugars together.
2. Add eggs and vanilla.
3. Mix flour, salt, baking soda, and cream of tartar.
4. Add dry ingredients to the batter and mix until well blended.
5. Stir in chocolate chips.
6. Spread dough into a large heart-shaped pan (I bought mine at Target).
7. Bake for 20 minutes at 350 degrees.
*I decorated the cake with store-bought frosting. You could always make homemade buttercream if you'd rather use that. Also, I would highly recommend placing your heart-shaped pan onto a cookie sheet — and putting both in the oven. Why? Because your giant cookie is likely going to bake up and over the edges of your heart pan — and you want the cookie sheet to be able to catch the overflow. Mine overflowed a bit — and if it happens to you, don't worry. Just trim the excess, overflowed cookie off with a knife. No one will know any different. :)