Here's the last Valentine's day creation of the week. Just plain old cupcakes decorated like crazy! All of the cupcakes are red velvet, but I used two different recipes. The darker cupcakes are red velvet cake mix from the store. The from scratch recipe for the bright red cupcakes came from Joy the Baker:
Bright Red Velvet Cupcakes
— adapted from Gourmet Cookbook and makes 2 dozen cupcakes
Print Recipe
2 cups all-purpose flour
3 teaspoons baking powder
1/4 teaspoon salt
10 Tablespoons unsalted butter, softened
1 cup sugar
2 large eggs
1 teaspoon vanilla extract
scant 1 cup milk
1 Tablespoon red food coloring
Put a rack in the center of the oven and preheat oven to 350 degrees F. Line a muffin tin with cupcake liners and set aside. Sift together flour, baking powder and salt into a bowl. Set aside . Beat together butter and sugar in a large bowl with an electric mixer at medium-high speed until pale and fluffy, about 3 minutes. Beat in eggs one at a time, beating for 1 minute in between each addition. Beat in vanilla. Reduce speed to low and add flour mixture alternately with the milk and red dye in 3 batches, beginning and ending with the flour mixture and beating until just incorporated. Bake at 350 for 15-18 minutes, or until the cakes a pick inserted in the center of the cakes comes out clean. Let cool for 10 minutes then remove cupcakes from muffin tin and let cool on a wire rack.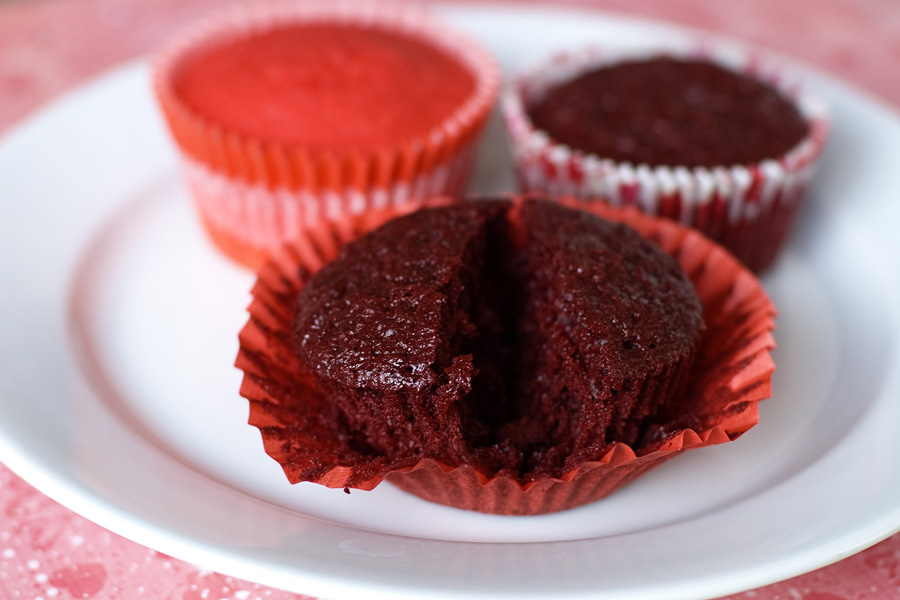 Now comes the fun part: decorating. I used store-bought frosting — chocolate and vanilla. I dyed some of the vanilla pink. Just because. The decorations are sprinkles, M&Ms, Good 'n' Plenties, Runts, etc. Aren't they pretttttty?