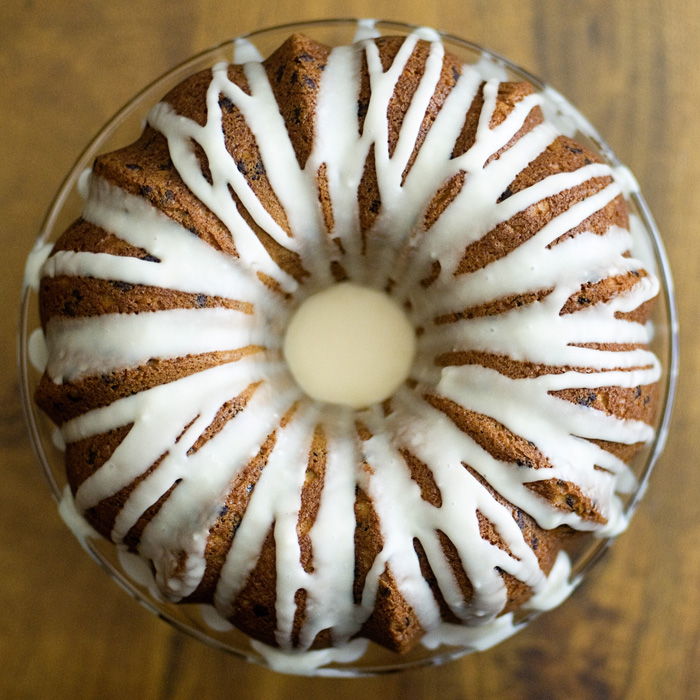 This cake is sinfully good. Seriously.
Vanilla Rich Chip Cake
Print Recipe
For the cake:
1 box yellow cake mix
1 package (4-serving size) vanilla instant pudding mix
1 cup sour cream
1/2 cup vegetable oil
1/2 cup water
4 eggs
1 Tablespoon pure vanilla extract
1 cup miniature chocolate chips
For the glaze:
3 Tablespoons melted butter
2-1/2 cups confectioners sugar
3 Tablespoons water
1-1/2 teaspoons pure vanilla extract
1. Preheat oven to 350F.
2. Beat cake mix, pudding mis, sour cream, oil, water, eggs, and vanilla extract in a large bowl with an electric mixer on low speed just to moisten. Beat on medium speed for 2 minutes.
3. Stir in chocolate chips and pour batter into a greased 12-cup Bundt pan.
4. Bake 50 minutes or until a toothpick comes out clean. Cool in pan 10 minutes. Invert onto a wire rack and cool completely. Sprinkle with confectioners sugar or drizzle with vanilla butter glaze (mix all of the ingredients for the glaze together — and mix until smooth).