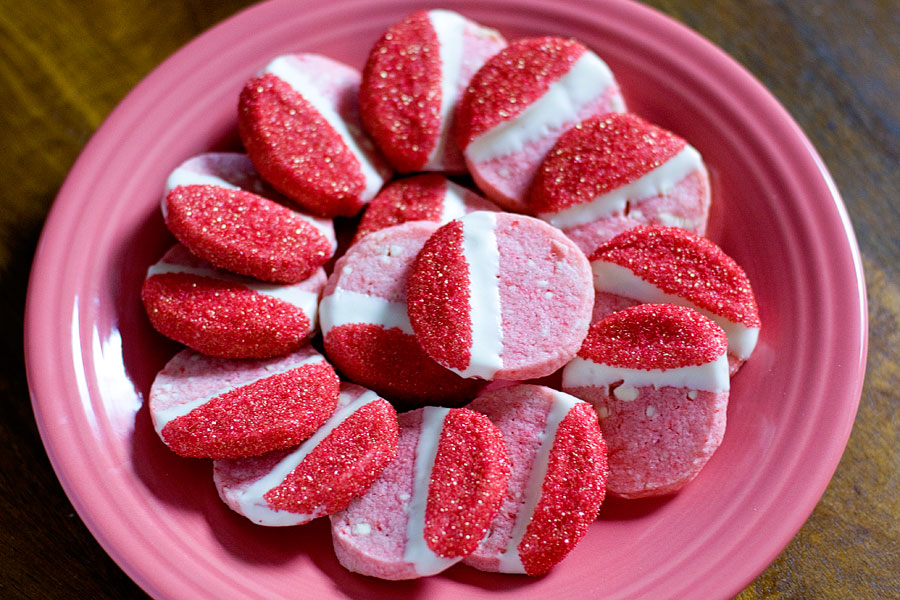 When I was home for winter break, I ate the most delicious cookies of all time. OK, maybe that's an exaggeration. But they were delicious. The delicious cookies came from a local restaurant/gift shop in Oshkosh called Caramel Crisp. Cherry shortbread — soft and covered in white chocolate and sprinkles. I may be biased, as I love all things cherry, but the cookies really were phenomenal. I immediately went on a Pinterest and Google hunt for a recipe that could maybe, possibly come close to replicating the cookies from Caramel Crisp.
I found one recipe that just didn't work. The cookies were ugly, un-even, and had no taste. Baking fails are frustrating – all that time, effort, and ingredients that end up in the garbage. Then I found a much better recipe. This one is perfect. Not quite the same as the magical (in my mind) cookies from Caramel Crisp, but they come pretty damn close. One thing to note — be sure you decorate the cookies in some way. Dip them in white chocolate, use sprinkles, do whatever floats your boat — otherwise they will look like slices of salami. Which isn't really what we're going for.
White Chocolate and Cherry Shortbread Cookies
Recipe source: Love and Olive Oil
Print Recipe
2/3 cup maraschino cherries, drained
2 1/2 cups all-purpose flour
1/2 cup sugar
1 cup cold butter, cut into cubes
12 ounces good quality white chocolate, finely chopped and divided
1 teaspoon almond extract
2 drops red food coloring (optional)
2 teaspoons shortening
Sprinkles for decorating (optional)
1. Pulse cherries briefly in a food processor until finely chopped (if you don't have a food processor, use a knife – no big deal). You should have 1/2 cup of chopped cherries; spread on a double layer of paper towels to remove any excess liquid. (This step is important — try to remove as much moisture as you can from the cherries.)
2. In the bowl of a food processor, combine flour and sugar. Add the butter and pulse until mixture resembles fine crumbs. Add drained cherries and 4 ounces of the chopped chocolate. Pulse briefly to combine. Finally, add almond extract and, if desired, food coloring. Knead mixture until it comes together in a smooth ball.
3. Divide dough in half, and roll each half into a cylinder approximately 1 1/2-inches in diameter by 10-inches long. Roll up in parchment paper or plastic wrap, twisting ends to seal. Refrigerate for at least 1 hour or until firm.
4. Preheat oven to 325F. Using a sharp knife, slice chilled dough into 3/8-inch-thick slices. Arrange on a non-stick or parchment lined baking sheet. Bake for 10 to 12 minutes or until centers are set and bottoms are lightly golden. Cool for 1 minute on cookie sheet, then transfer to a wire rack to cool completely.
5. In a small saucepan or a microwave safe bowl, combine remaining 8 ounces white chocolate and the shortening. Cook and stir over low heat or microwave on low power, stirring often, until melted. Dip the cookies into the white chocolate to coat half, then dip into sprinkles of your choosing. Place cookies on waxed paper until set.
Makes 3-4 dozen cookies.