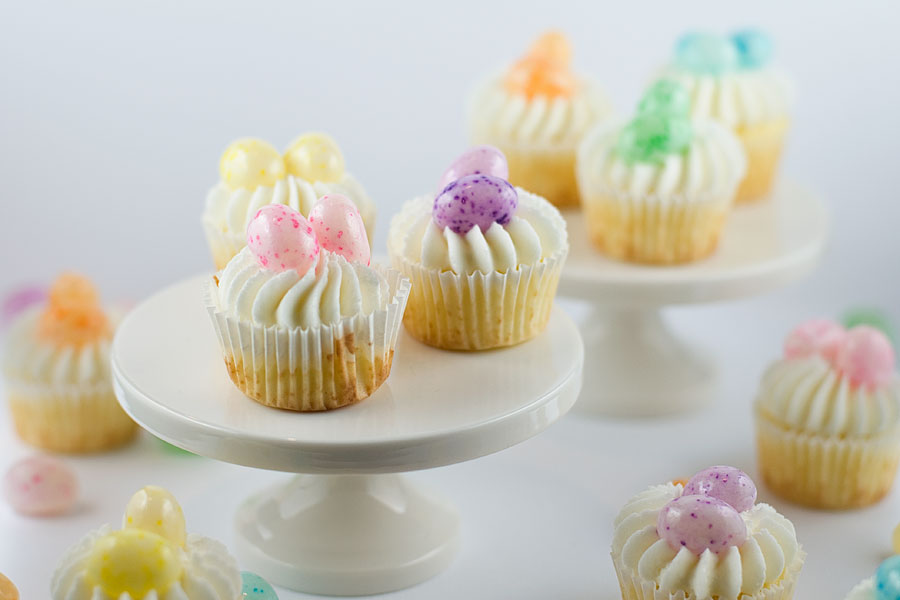 Happy first day of spring! It doesn't feel like spring here in Wisconsin, as it's still in the 20s. But the green grass and warmer weather will be here before we know it. Hopefully!
Jelly beans seem to be a polarizing candy – you either love or hate them. I'm in the hate them camp. But they're so cute and they epitomize Easter and springtime. So I decided to make mini cupcakes decorated with jelly beans — which can be easily removed and thrown out if you're not a fan of the little beans.
White Chocolate Jelly Bean Cupcakes
Recipe adapted from: epicurious.com
Print Recipe
8 ounces high-quality white chocolate (such as Lindt or Perugina), chopped
1 3/4 cups all purpose flour
1 teaspoon baking powder
1/2 teaspoon coarse kosher salt
1 cup sugar
3/4 cup (1 1/2 sticks) unsalted butter, room temperature
1 tablespoon vanilla extract
1/2 cup canned unsweetened coconut milk (do not use low-fat)
3 large egg whites
1. Preheat oven to 325°F. Line mini muffin pans with paper liners.
2. Place white chocolate in metal bowl set over pan of barely simmering water. Stir until melted and smooth.
3. Whisk flour, baking powder, and salt in medium bowl. Using electric mixer, beat sugar, butter, and vanilla in large bowl until blended. Add hot white chocolate to sugar mixture; stir to combine. Add flour mixture in 3 additions alternately with coconut milk in 2 additions, beating batter just to combine between additions.
4. Using clean dry beaters, beat egg whites in medium bowl until soft peaks form. Gently fold egg white mixture into batter in 3 additions.
5. Divide batter among muffin cups. Bake until tester inserted into center comes out clean, about 10 minutes. Cool completely.
I made a batch of my favorite white buttercream icing and topped each cupcake with two jelly beans. I bought the pastel and speckled jelly beans at Target.