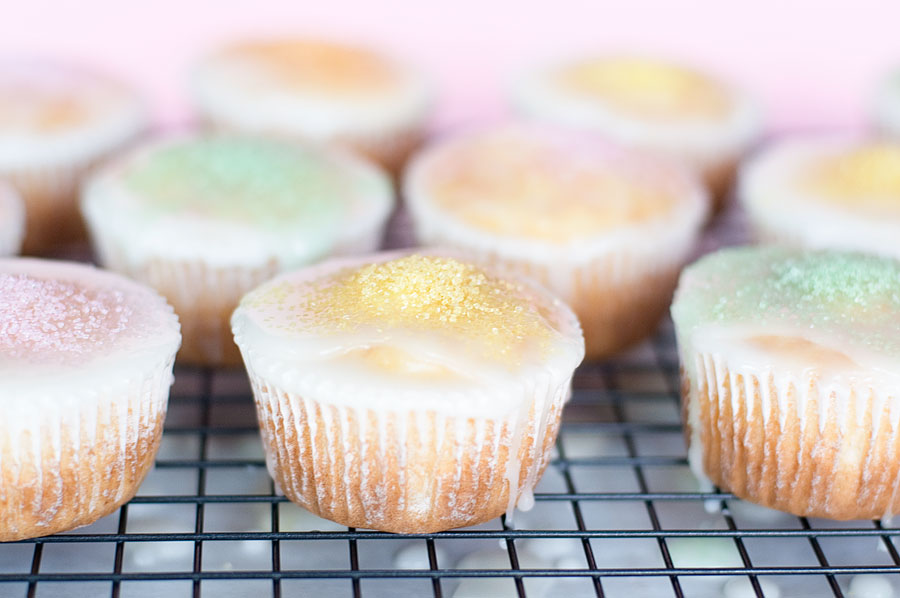 Spring is such a pretty time of the year. Pastel colors are back in fashion, Easter candy lines the store shelves, and the weather is finally becoming a-m-a-z-i-n-g. [Have I mentioned that Wisconsin has had temps in the 80s for the past week? Wisconsin. 80s. In. March.] So in celebration, here are some pretty cupcakes!
White Chocolate Vanilla Cupcakes
Recipe source: lululu at home
Print Recipe
1 1/2 cups all-purpose flour
1 teaspoon baking powder
1/2 teaspoon salt
1/3 cup butter, softened
3/4 cup granulated sugar
2 large eggs
1/2 cup good quality white chocolate, chopped and melted
1 teaspoon vanilla
1 cup buttermilk
[makes 12 cupcakes]
Vanilla Glaze:
1/4 cup milk
1 teaspoon clear vanilla extract
2 cups powdered sugar
*I would suggest adding more than 2 cups of powdered sugar; the glaze was a bit thin otherwise.
1. Preheat oven to 325F. Grease muffin tin or line with muffin liners.
2. To prepare cupcakes, in a large bowl, sift together flour, baking powder and salt. Set aside.
3. In the bowl of an electric mixer fitted with the paddle attachment, cream butter on medium-high speed, until light and fluffy. Gradually add sugar and continue to beat until well combined and fluffy. Reduce the mixer speed to medium and slowly add eggs, one at a time, until just blended.
4. Add the melted chocolate and vanilla, mixing well.
5. With the mixer on low, slowly add half the flour mixture, mix until just blended. Add the buttermilk, mix until just blended. Slowly add remaining flour mixture, scraping down sides of the bowl with a spatula, as necessary, until just blended.
6. Divide the batter evenly among prepared muffin cups. Bake for 20 to 25 minutes. Let cupcakes cool completely before glazing.
7. To prepare the glaze, warm the milk and vanilla in a medium saucepan set over low heat. Add the powdered sugar and whisk slowly until slightly thickened.
8. Dip cupcakes, upside down, in the glaze and set on a rack placed over a baking sheet. Decorate with sprinkles immediately.