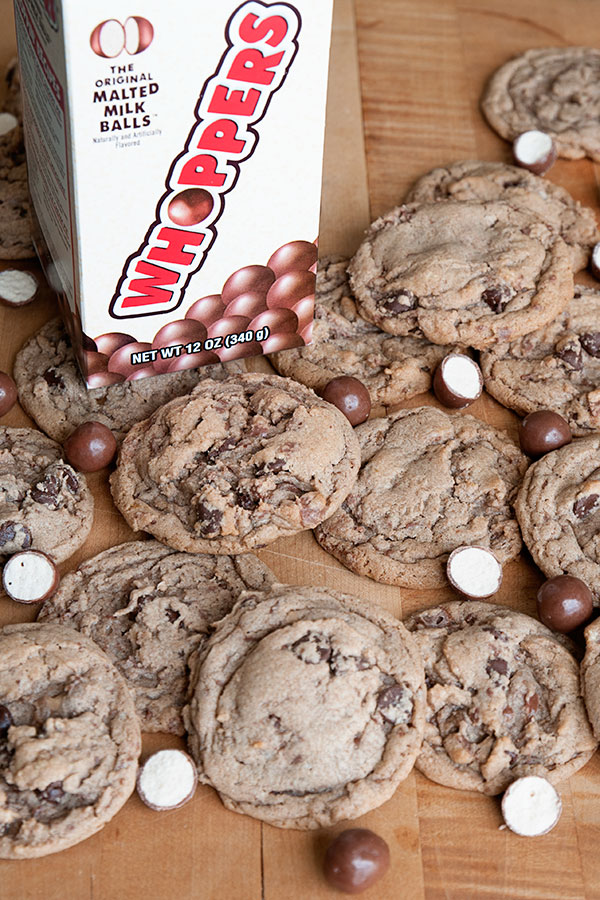 Oh, Whoppers, you are delicious. I love all things malty – chocolate malts, Robbins Eggs candy at Easter, Whoppers, and those to-die-for giant malted milk balls that I buy at my local grocery store. These cookies were delicious – though I did make one ingredient change. I used chocolate malt powder instead of plain malt powder. Because duh. CHOCOLATE.
Whoppers Cookies
Recipe source: Two Peas & Their Pod
Print Recipe
2-1/4 cups all-purpose flour
1/2 cup malted milk powder [I used chocolate]
2 teaspoons cornstarch
1 teaspoon baking soda
1/2 teaspoon sea salt
3/4 cup unsalted butter, at room temperature
1 cup dark brown sugar
1/4 cup granulated sugar
1 large egg
2 teaspoons vanilla extract
1 cup semi-sweet chocolate chips
1 cup chopped Whoppers candies (or any malted milk balls)
1. Preheat oven to 350 F. Line a large baking sheet with parchment paper and set aside.
2. In a large bowl, whisk flour, malted milk powder, cornstarch, baking soda and sea salt together. Set aside.
3. In the bowl of a stand mixer, cream together butter and sugars until smooth and creamy, about 3 minutes. Add egg and vanilla extract and beat until combined. Slowly mix in the dry ingredients.
4. Stir in the chocolate chips and malted milk balls. Form cookie dough into tablespoon balls and place on prepared baking sheet, about 2 inches apart.
5. Bake cookies for 10 minutes, or until slightly golden brown around the edges. Let the cookies cool on the baking sheet for two minutes. Transfer to a wire cooling rack and cool completely.