These are a perfect example of an idea going awry. I was originally going to top these cupcakes with brownie bits cut with a heart cookie cutter. That was a disaster — the brownies fell apart and looked nothing like the heart they were cut from. So…improvise! I decided to make XOXOs!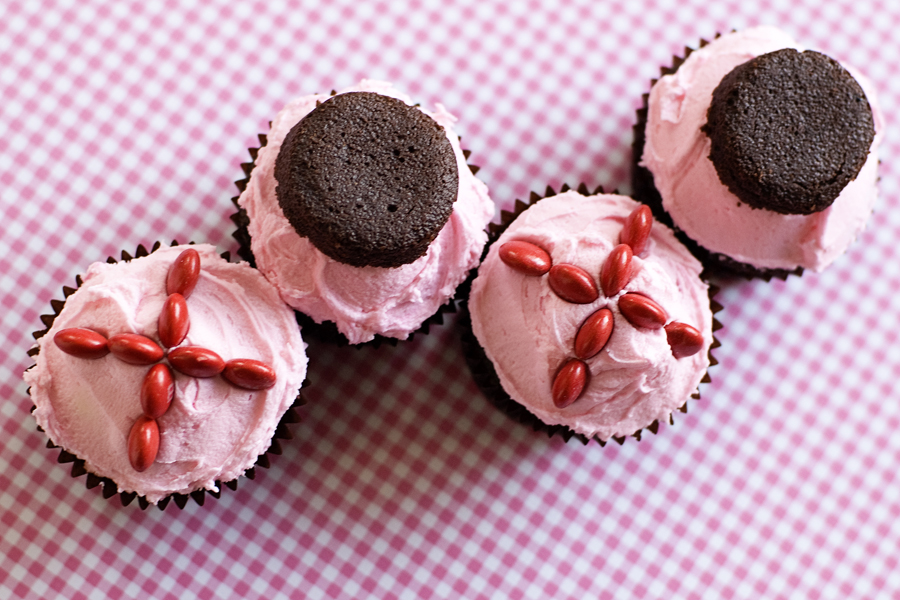 The cupcakes are Betty Crocker dark chocolate cake mix, and the frosting is butter cream from scratch, colored with 3 drops of AmeriColor neon pink coloring. The O's are the brownie bites cut in half and the X's are M&Ms. I bought the Brownie Bites from the grocery store — hey, I have no problem with going the store-bought route every now and then! Here's the recipe I used for the to-die-for frosting:
Buttercream Frosting
1 cup (2 sticks) butter, softened
1 teaspoon pure vanilla extract
1 1b. 10X powdered sugar
1-3 teaspoons milk, half and half or cream
1. Using a mixer, cream softened butter and vanilla with a mixer until smooth.
2. Add sugar gradually, allowing butter and sugar to cream together before adding more.
3. If you want it a little creamier, add a teaspoon of milk at a time and beat on high until you get the right texture.