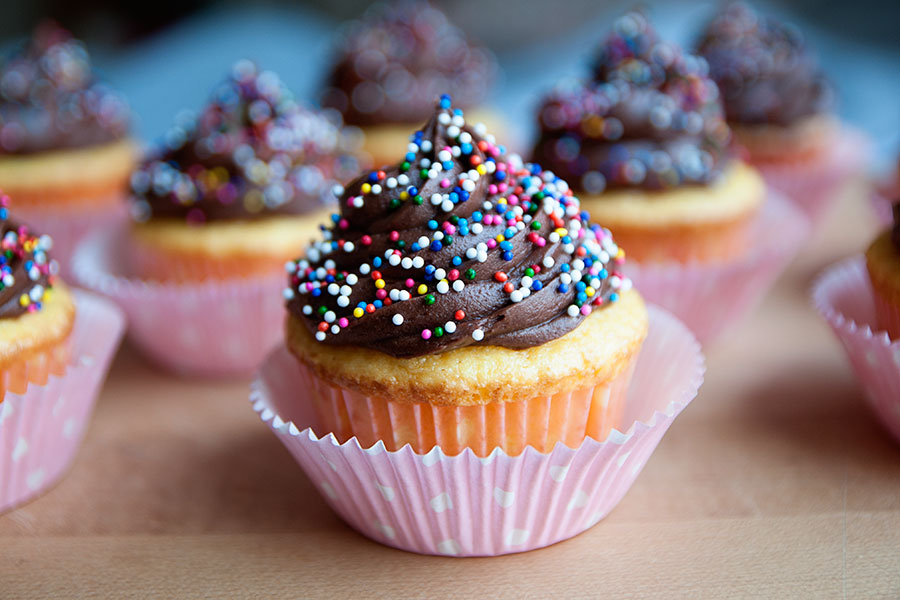 About a month ago I received a request to feature a recipe for yellow cake. My one problem is that I don't like to make cakes — mainly because they go to waste in my house. It's easy to bring cookies, bars, or cupcakes to school or work, but the same isn't true for a cake (which involves cutting pieces, needing plates and forks, etc.) So I decided to make yellow cupcakes for this post instead. The recipe can be easily adapted into a cake — just use cake pans instead of a muffin tin, and increase the baking time a bit!
Yellow Cake Cupcakes
Recipe source: Tasty Kitchen
Print Recipe
1 box yellow cake mix
4 whole eggs
1 cup sour cream
1/3 cups vegetable oil
1/4 cups sugar
1/4 cups water
1 teaspoon vanilla extract
1 teaspoon almond extract (optional; but I like almond flavored cake!)
1. Preheat oven to 350F. Line muffin tins with liners.
2. Mix eggs, sour cream, oil, and sugar in a large bowl.
3. Alternate adding cake mix and water. Mix in extracts.
4. Fill the liners half-full with batter. Bake for about 20 minutes, or until a tester comes out clean.
Chocolate Buttercream Icing
Recipe source: Sally's Baking Addiction
Print Recipe
1 cup unsalted butter, softened to room temperature
3-1/2 cups confectioners' sugar
1/2 cup unsweetened cocoa powder
1/2 teaspoon salt
2 teaspoons vanilla extract
3 Tablespoons heavy cream or milk
Rainbow sprinkles (optional)
A disposable pastry bag + large star tip
1. Using a handheld or stand mixer fitted with a paddle attachment, beat the butter on high speed until smooth and creamy – about 2 full minutes.
2. Turn speed to LOW and slowly add 3 cups of confectioners' sugar, the cocoa powder, and salt. Beat until sugar/cocoa are absorbed into the butter, about 2 minutes.
3. Turn mixer to medium speed and add the vanilla and cream. Once added, turn the mixer to high speed and beat for 1 minute. Add the last 1/2 cup of confectioners' sugar if you'd like to increase the frosting's thickness.
4. Pipe the frosting onto cooled cupcakes and decorate with sprinkles.