I saw this dinosaur cake in a magazine and just HAD to make it. But the question was: who would I make a dinosaur cake for? The answer was easy. My friend Amelia, who loves dinosaurs just as much as I do, is moving to Utah. I decided to make the dino cake as a going-away present of sorts.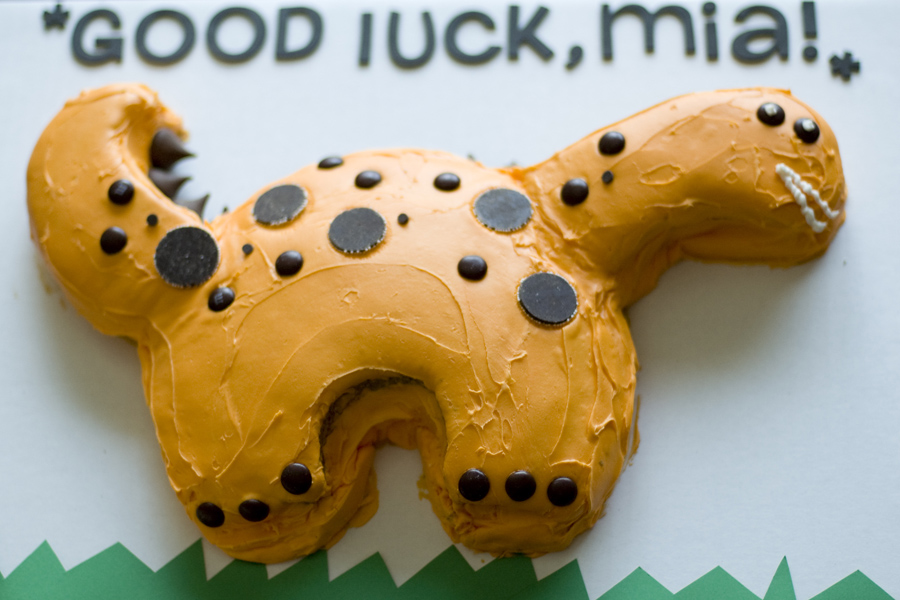 You can find a full set of instructions at BettyCrocker.com, but here are my tips and tricks for how to make the cake.
You don't need a dinosaur shaped pan. Just bake two 8″ or 9″ cakes and cut out the pieces. One cake is used for the body – and the head and tail are cut out of the other cake. You can do this freehand, or you can download a template here.
Use Hershey Kisses for the spine & assorted chocolate candies (M&Ms, large nonpareils, chocolate chips, etc) for the spots.
I used store bought frosting on this cake. If I could do it all over again, I would make homemade buttercream (or something even thicker). The store-bought frosting ended up running down the sides of the dino, as you can see in the photo above. Even with refrigeration, it still ran down the sides.
Another helpful hint: freezing your cakes before you frost them makes it SO MUCH EASIER. It is much easier to frost a frozen cake. You can even do a crumb coat of frosting before you freeze it – meaning that you slap on a thin layer of frosting to lock the crumbs in, freeze it for 30-60 minutes, and then frost the cake again to make it look presentable.
If you've never frozen a cake before, fear not, it's super easy. Wrap the cake in plastic wrap – I usually wrap it twice, just to lock in as much moisture as possible. After the plastic wrap, you can also wrap the cake in aluminum foil to ensure that no moisture is lost. Make sure your cakes are COMPLETELY cooled before you freeze them though!