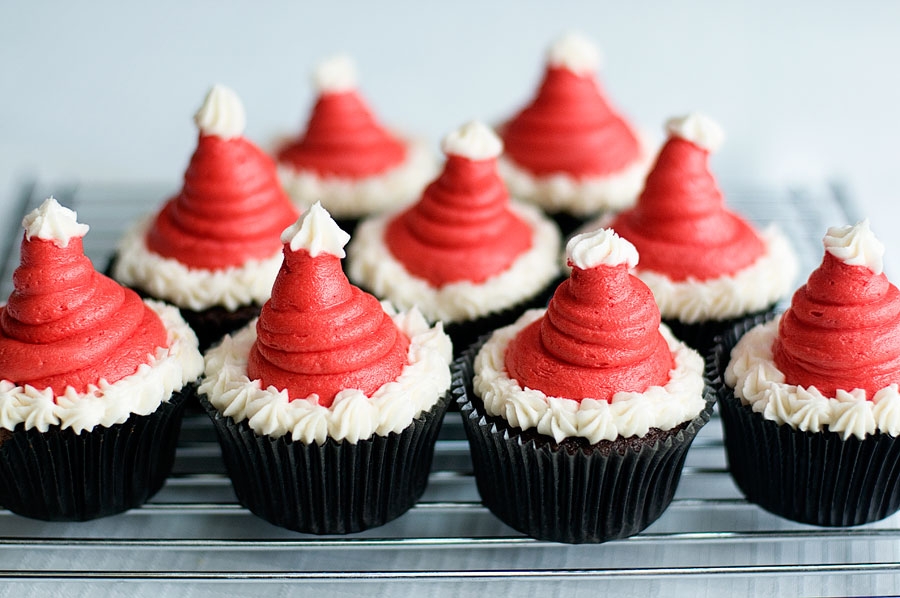 I saw a photo of these cupcakes on Pinterest and knew I had to make them! Aren't they super cute?! By the way, if you are hopelessly addicted to Pinterest like I am, add me as a contact! Let's be Pinterest pals. I know that December is the season of having to bring holiday treats to your kid's school — or maybe wanting to bring a little something sweet to work. These cupcakes were simple to make, though they do require pastry tips to make the hat.
Santa Hat Cupcakes
Print Recipe
1 box chocolate cake mix (plus required eggs, oil)
1 batch buttercream frosting (many recipes listed here)
Red food coloring (I cannot recommend AmeriColor's Super Red gel coloring enough — buy a bottle, it's well worth it!)
A large round pastry tip and a small star tip
1. Bake cupcakes according to box directions.
2. Tint a portion of the buttercream frosting red. Pipe large "blobs" of red frosting onto each cupcake using a large round tip.
3. Pipe white frosting around each hat using a star tip. Also pipe a bit of white frosting at the top of each hat.
That's it! Simple, right?