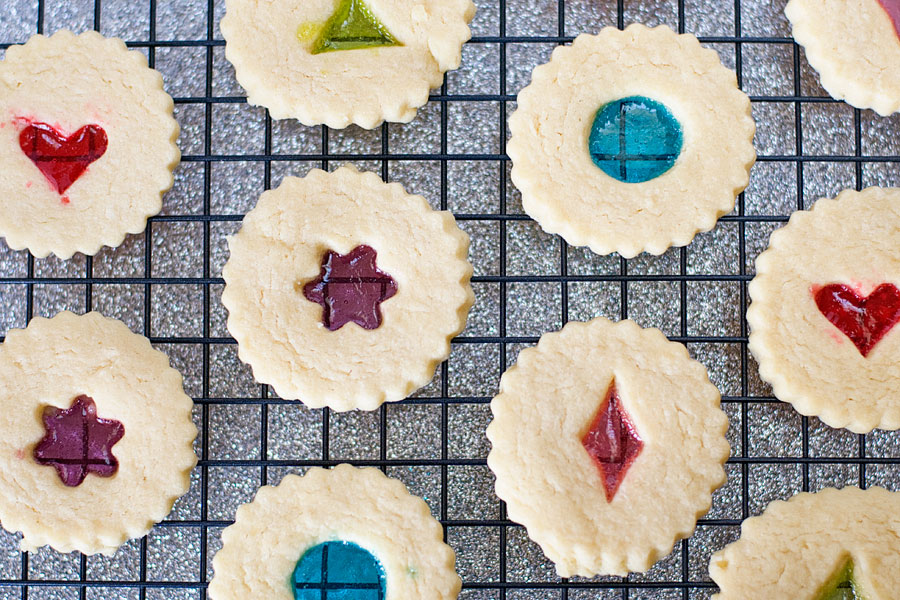 Stained-glass cookies have been on my to-bake list FOREVER. The concept is awesome but I'll admit, I was intimidated at the thought of making them. I'm not great with making intricate cookies, much less cookies that involve melted sugar in the middle. Eeep! I was reading Everyday Food last month and this was one of the featured Christmas cookie recipes. If it's a Martha recipe, it's gotta be good. Say what you will about her as a person, her brand and her recipes are flawless. I decided to give these a try and they weren't nearly as difficult as I was expecting. There are a few things I would do differently next time and I included those notes in the recipe below.
Stained-Glass Sugar Cookies
Recipe source: Everyday Food
Print Recipe
3 cups all-purpose flour, plus more for rolling
3/4 teaspoon baking powder
1/4 teaspoon fine salt
1 cup unsalted butter, softened
1-1/4 cups sugar
4 large egg yolks
1 Tablespoon vanilla extract
Very finely crushed hard candy (I used Jolly Ranchers), 1 cup total
1. In a medium bowl, whisk together flour, baking powder, and salt. In a large bowl, beat butter and sugar on medium-high until light and fluffy (about 3 minutes). Add egg yolks and vanilla and beat to combine. With mixer on low, gradually add flour mixture and beat to combine.
2. Form dough into 2 disks, wrap in plastic, and refrigerate 30 minutes.
3. Preheat oven to 350F.
4. Working with one disk at a time, roll out dough between floured parchment paper to 1/8-inch thickness. Stack dough in parchment on a baking sheet; refrigerate until firm (about 30 minutes).
5. With a 2-1/2-inch circle cutter, cut out dough. Place cookies 1 inch apart on baking sheets. With a 1-inch star cutter, cut out dough in center of each cookie. Bake until cookies are pale but set, 8-10 minutes, rotating sheets halfway through. [This step works best when the dough is COLD – the warmer is gets, the more difficult it becomes to cut out the shapes; I used a cookie cutter set made for linzer cookies; cut the circle out first THEN cut out the small center shape, it just works better that way]
6. Remove sheets from oven; fill cutouts with crushed candy. Bake until cookies begin to brown at edges and candy is melted, about 3 minutes. [Be careful to fill only the cutouts and to not allow any candy to overflow onto the cookie surface, otherwise it will melt and stain the cookie — as you can see in parts of my cookies! No perfection here, folks!]
7. Let cool completely on sheets on wire racks.