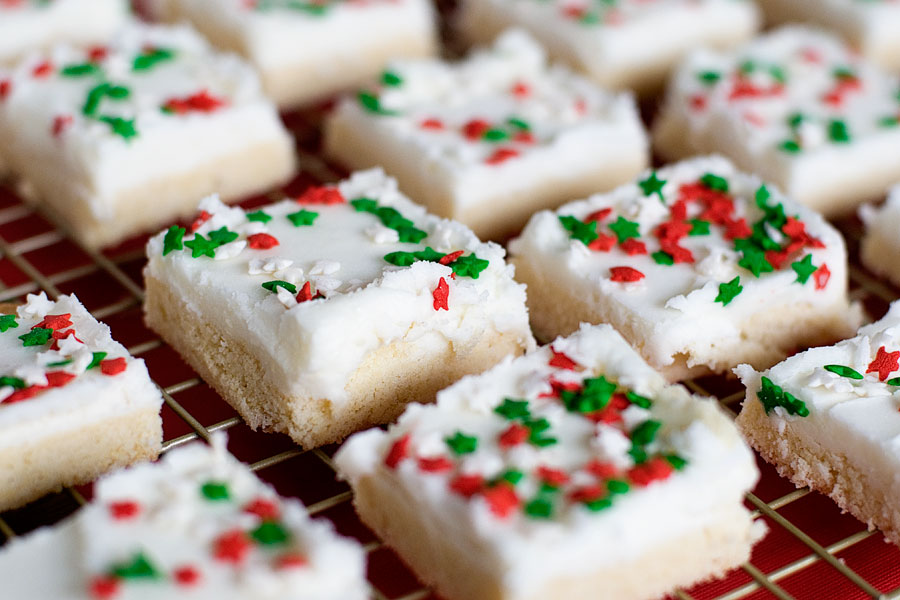 I love Christmas cut-out cookies (I'll be posting a recipe for those later this month!) but sometimes they are just so… much… work. Make the dough, chill the dough, roll the dough, cut the dough, bake the dough, frost the cookie, decorate the cookie, PHEW! If you want an easy shortcut that still maintains the flavor and concept of a frosted cookie, give these a try.
Sugar Cookie Squares
Recipe source: Land O' Lakes
Print Recipe
3/4 cup sugar
2/3 cup butter, softened
1 Tablespoon milk
1 teaspoon vanilla
1 egg
1-1/2 cups all-purpose flour
1-1/2 teaspoons baking powder
1/4 teaspoon salt
Frosting:
4 cups powdered sugar
1/2 cup butter, softened
1 teaspoon almond extract
3 to 4 Tablespoons milk
1. Preheat oven to 375F. Combine sugar, 2/3 cup butter, milk, vanilla, and egg in large bowl. Beat at medium speed until creamy Reduce speed to low; add flour, baking powder, and salt; mix well.
2. Spread mixture into ungreased 15x10x1-inch jelly-roll pan.  Bake for 10-12 minutes or until set; cool completely.
3. Combine powdered sugar, 1/2 cup butter, and almond extract in medium bowl. Beat at medium speed, gradually adding enough milk for desired spreading consistency. Spread frosting over cooled bars; decorate with sprinkles [optional], cut into squares.