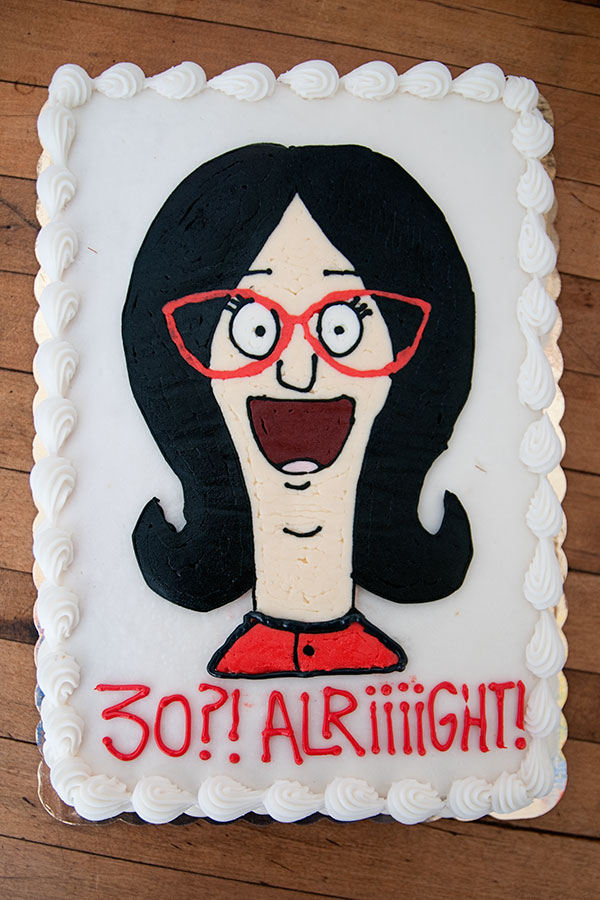 I turned thirty last month. I could have celebrated my new decade with a boring, fancy pants cake. Instead, I reverted and went with a cartoon. I LOVE Bob's Burgers. Do any of you watch it? I think it's one of the most charming shows on television. Laughter, awkwardness, weirdness — and stories of a family that really loves one another.
Linda, the Belcher mom, is my favorite. She's loud, sassy, and completely in her own world. LOVE. HER. One of her signatures is "alriiiiiiiiiight!" – her enthusiastic response to just about everything.
I decided to make a cake featuring Linda. I made a buttercream transfer based on this image. If you have no idea what a buttercream transfer is, check out my Golden Girls cake post.
I bought a plain white cake from a local bakery — and just placed the buttercream transfer on top. It was faster and easier than making my own cake, especially when busy with other birthday party-related duties.
And finally, in keeping with the Bob's Burgers theme, I also ordered a hamburger cake — and topped it off with the Belcher family. My apologies that I don't have detailed instructions for anything in this post — but it was all half-homemade! If you have any specific questions, please leave a comment and I'd be happy to help!