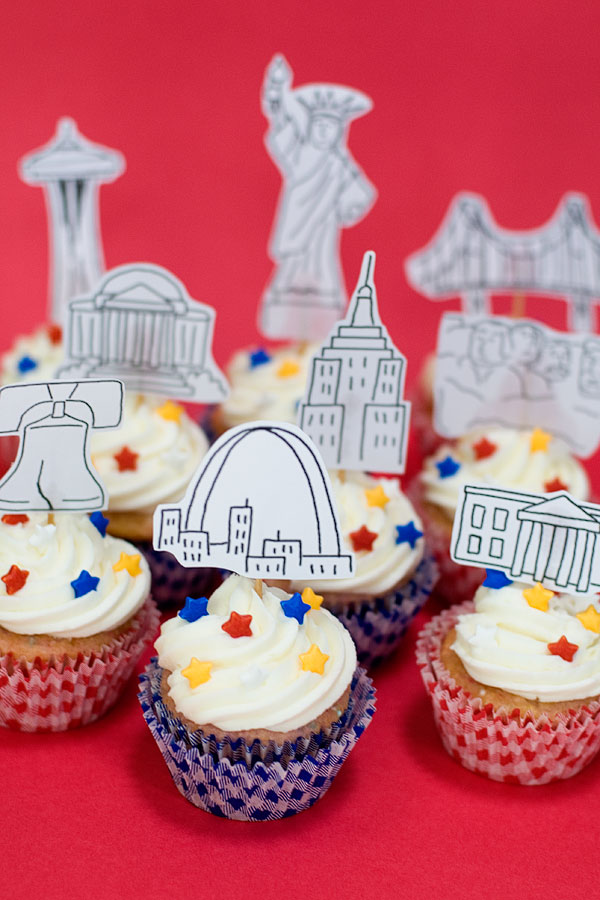 The 4th of July is rapidly approaching and it's one of my favorite holidays. I love America. I really do. Getting to celebrate the United States through summertime cookouts, fireworks, and family togetherness is my idea of a great holiday. I also love the holiday because it happens in July, when the weather is warm and everyone can be outside (because if you live in Wisconsin, almost all other special occasions happen in chilly weather!).
I found these adorable cupcake toppers through Pinterest (where else?). They are FREE to print out from thedecoratedcookie.com! So many of America's best landmarks are included. Leave them in black/white or have your kids color them in.
I taped each landmark onto a toothpick and stuck them into a buttercream-frosted cupcake. The only thing that bugged me is how the moisture from the frosting seeped up through the toothpick overnight…and created a spot on the printed landmark. You can see this in the photo. Ahh, you live and learn, right?
So if you make these for your 4th of July picnic, wait until the last minute to add the toppers to the cupcakes!
Here's some more info on how I made these:
I used a box mix and added red, white, and blue sprinkles. I wouldn't recommend, as they turned the batter a little pink. Ooops!
I used the white buttercream icing recipe that can be found here.
The candy stars are made by Wilton. I purchased them at Jo-Ann Fabrics.