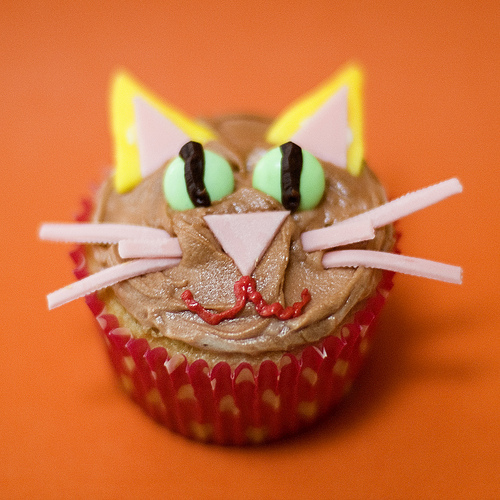 Supplies needed:
– Brown food coloring (or you could use chocolate frosting)
– Red-tinted frosting
– Pink chewing gum
– Yellow fondant (you could also use white chewing gum instead)
– Two pastel green M&Ms
1. Frost a cupcake of your choosing with brown frosting. You could use other colors depending on what color you'd like your kitty cat to be.
2. Cut triangles out of the pink chewing gum to serve as the ears and nose, as well as 6 thin strips of gum to serve as the whiskers.
3. Cut larger triangles out of the yellow fondant or white chewing gum to also use on the ears.
4. "Glue" the pink triangles onto the yellow or white triangles with a bit of frosting. Place the "ears" on the cupcake.
5. Place the M&M eyes on the cupcake and pipe a line of chocolate frosting onto each M&M.
6. Place the nose and whiskers on the cupcake.
7. Pipe a mouth on the cupcake with red frosting.