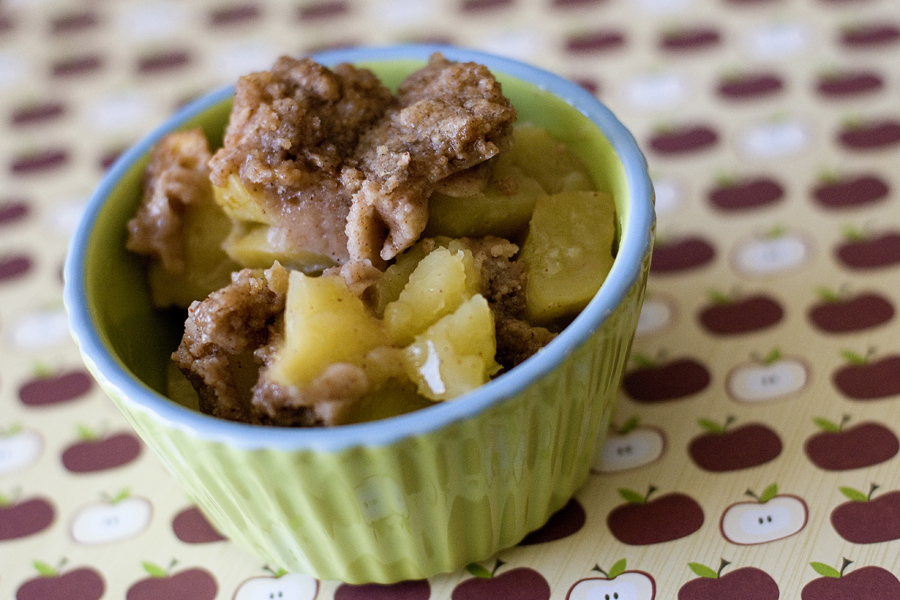 My love affair with fall continues. Nothing smells more like fall than apples baking in the oven! I love recipes that are SIMPLE yet delicious. My friend Laine sent me this recipe and raved about it. She was right. If you are unsure of what type of apple to use, I would recommend Braeburns. Tart apples usually contrast nicely with the sugar in the recipe.
Apple Crisp
Recipe source: Joy of Cooking
Print Recipe
Preheat oven to 375 degrees. Have ready an unbuttered 2-inch-deep 2-quart baking dish.
Peel, core, and cut into 1-inch chunks:
8 medium apples (about 2.5 lbs)
Spread evenly in baking dish.
Combine in a bowl:
3/4 c. all-purpose flour
3/4 c. white or packed brown sugar
1/2 t. salt
1 to 1.5 t. ground cinnamon
(1/4 t. grated or ground nutmeg-optional)
Add:
1/2 c. (1 stick) cold unsalted butter, cut into small pieces
Using a pastry blender to 2 knives, cut the butter into the dry ingredients until the mixture resembles coarse crumbs. Scatter the topping evenly over the fruit. Bake until the topping is golden brown, the juices are bubbling, and the apples are tender, 50 to 55 minutes.