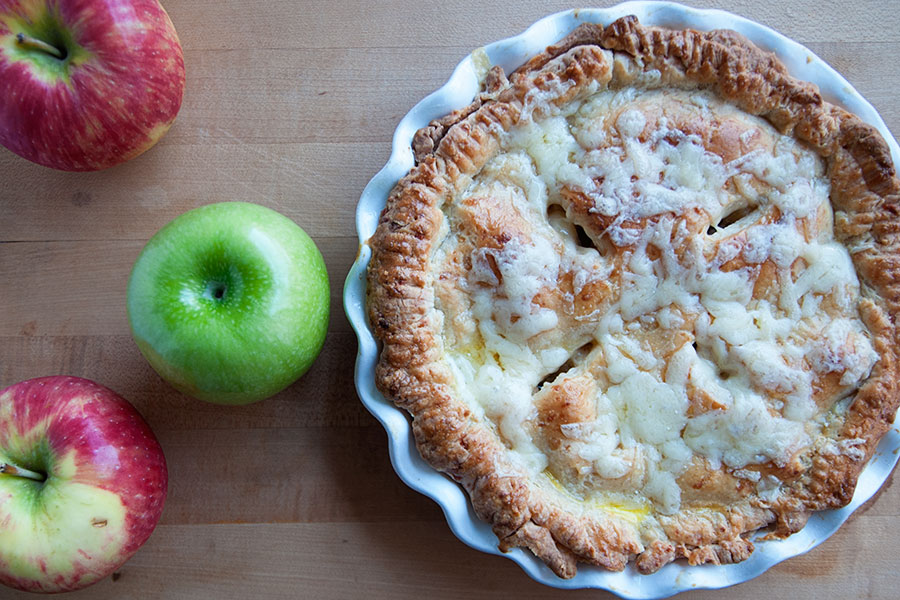 My friend Andrea suggested that we take a breather from law school and have a Disney movie and pie day. Ummm, YES. PLEASE. I understand that it's silly for two grown women to watch cartoons and bake pies all day, but this is what law school does to you. I expanded my Disney horizons (by finally viewing Mulan, Lilo & Stitch, and Pocahontas) and we made a delicious, 100% from scratch apple gruyere pie.
The idea for this particular pie was inspired by Pushing Daisies — a television show that Andrea LOVES and I am lukewarm about at best.
But pie? I LOVE pie. And pie that involves cheese? I was intrigued. Apparently cheesy apple pies are a thing. Who knew?
Anyway, we tried it, we conquered it, and it was delicious.
Yield: 8 slices of pie
Apple Gruyere Pie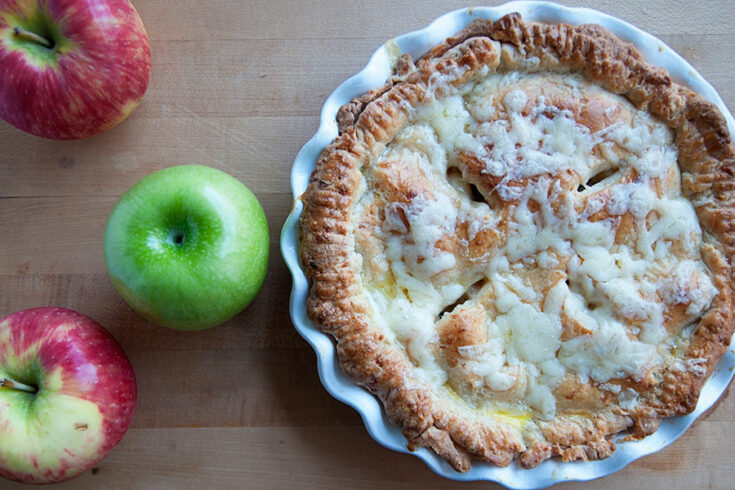 If apple pie is great, then apple pie with CHEESE is amazing!
Total Time
3 hours
35 minutes
Ingredients
For the crust:
2 cups flour
5 ounces shredded gruyere cheese (weigh it out on a kitchen scale)
12 tablespoons cold butter
1/4 cup + 2 tablespoons (cold) water
For the filling:
5-6 apples (Granny Smith preferred)
1/2 cup milk
1 teaspoon vanilla extract
1/2 cup brown sugar
1 teaspoon cinnamon
1 tablespoon cornstarch
1 tablespoon butter
1 egg
3 ounces shredded gruyere cheese for the top
Instructions
Make the crust:

1. Cut the gruyere into cubes and weigh out 5 oz.

2. In a food processor, combine the 5 oz. of cheese, flour, and cold, cubed butter. Pulse until crumbly. Switch the food processor on to low and pour the cold water in through the top opening. Keep mixing until a dough forms — this will not take long, so keep an eye on it.

3. Turn the dough out onto a floured surface and knead into a ball. Cover in plastic wrap and refrigerate for a few hours (we left ours overnight).

Make the filling:

1. Preheat oven to 375F. Peel and cut the apples into small bite-sized pieces.

2. In a bowl combine the milk, vanilla extract, brown sugar, cinnamon and cornstarch. Whisk so it is well combined and the cornstarch doesn't clump together. Add the apples to the bowl and stir so that every piece gets coated in the mixture.

3. Set the ball of dough on the counter for 10-15 minutes before rolling it out. Once 10-15 minutes has passed, divide the ball of dough in half. Roll out half of the dough and place the bottom crust in a buttered pie dish.

4. Fill the pie dish with the apple mixture. Cut the tablespoon of butter into four pieces and distribute over the top of the apples.

5. Roll out the second half of the dough. Cover the apple mixture with the top crust and roll up the edges. Cut 3-4 small slits in the top of the pie, so air can escape as it bakes. Brush with one whisked egg (optional).

6. Bake for 50 minutes. During the last five minutes of baking add the cheese on top.
Notes
Your yield will depend on how big or small you make your pie slices.
Recipe credit: A Beautiful Mess