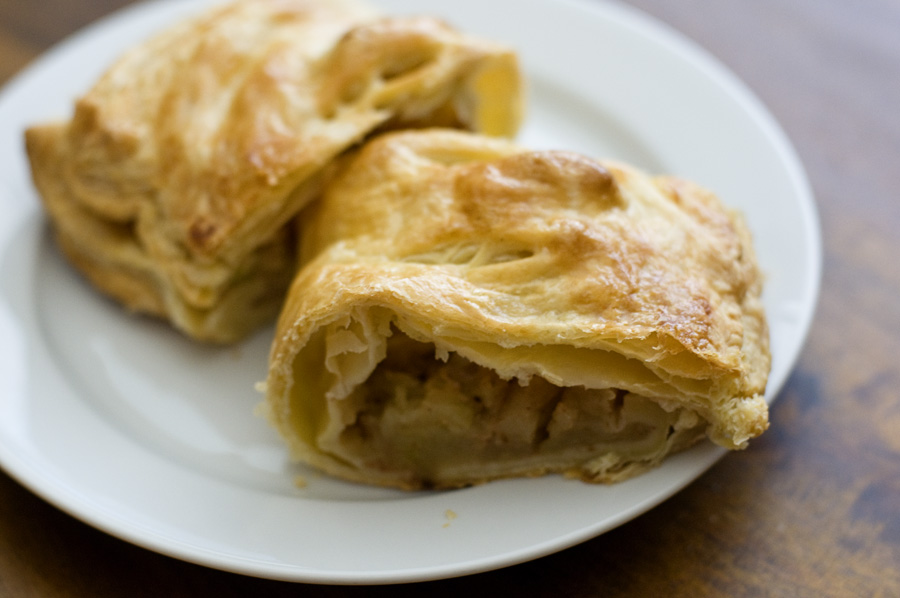 Apples + puff pastry? Yes, please. This recipe is super easy – it's liking making a pie, but with a fraction of the work!
Apple Strudel
Recipe adapted from sugarcrafter.net
Print Recipe
2 apples, peeled and chopped (I used Granny Smith – as I think tart apples are best suited to baked goods)
1 Tbsp lemon juice
1/4 cup sugar
1 Tbsp brown sugar
2 Tbsp butter
1/2 teaspoon ground cinnamon
1/4 teaspoon nutmeg
2 sheets puff pastry*, thawed
*I used Pepperidge Farm's frozen puff pastries. I typically don't do product plugs on this blog, but their puff pastries are tasty and super easy to use.
1. Preheat oven to 375F and prepare a baking sheet with parchment paper.
2. Cut the apples into small chunks. In a medium bowl, toss the apples with the lemon juice. Add in the sugars, butter, cinnamon, and nutmeg – tossing to coat evenly.
3. Roll out each puff pastry sheet and spread half of the apple mixture on each, leaving space on the sides. Fold the top half over and pinch to seal the edges. Cut slits in the top of the dough and brush the strudel with an egg wash and sprinkle with granulated sugar.
4. Bake about 40 minutes or until golden brown.
If you don't perfectly seal the edges, it's no big deal. Try your best, it will still bake well and taste good! Here's what it will look like coming out of the oven. I think this photo is hilarious – because I kind of see a grumpy-looking face in the pastry. Or maybe I'm going crazy.