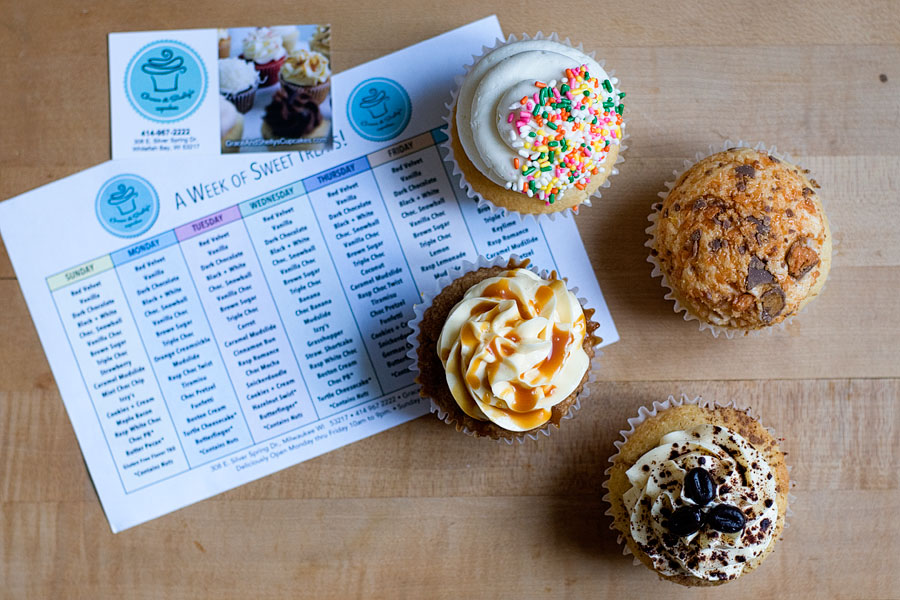 I'm reviewing Grace and Shelly's cupcake shop – located in Whitefish Bay, WI!
Grace and Shelly's shops are primarily located in Florida. The Milwaukee area must be pretty special in order to get one! ;)
I really like this bakery. I've visited a few times (so I could sample many varieties) and I've been happy every time.
My favorite cupcake here is the Butterfinger Cupcake (shown above) – OH MY GOD. It was to-die-for. My other favorite? The maple bacon because, well, duh. Maple and bacon. On a cupcake.
One of the great things about this shop is the variety of cupcakes. They print a menu – so you know what cupcakes will be made each day of the week.
The shop also serves Chocolate Shoppe ice cream — a local company out of Madison that makes amazing ice cream.
I also tried one of their variety packs of mini cupcakes — a wise decision if you can't make up your mind. It was nice to be able to try teeny tiny versions of so many of their flavors.
The inside of the shop is very inviting – decorated in pale blues and whites.
So yes, if you find yourself in Milwaukee or Florida, please visit Grace & Shelly's!
Note: I'm not being paid to promote this bakery. I just like to try new places and I'll take any excuse I can get to eat a few cupcakes.