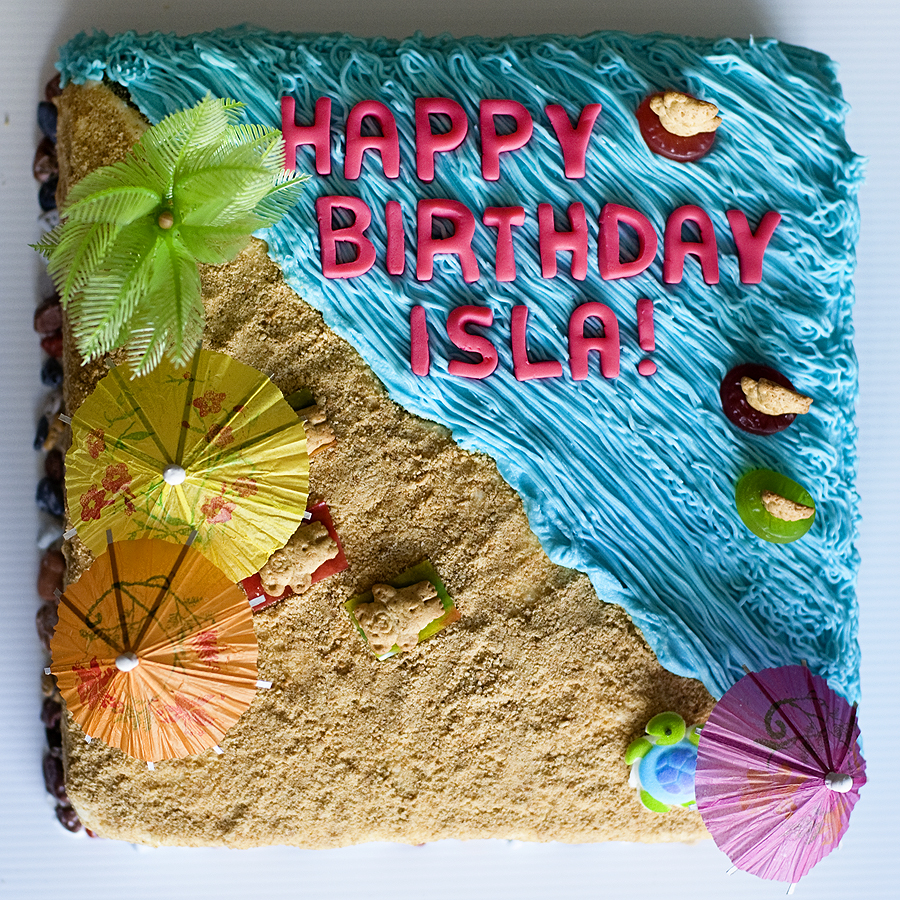 Happy birthday to Isla! My friend Meghan babysits for Isla and her old brother Townes (you may remember that I made him a super hero cake back in March). Isla turned 1 last week and her parents requested a beach/Hawaiian-themed cake. I was happy to oblige! Here are the details about how I made her cake and cupcakes.
The cake was a 10-inch square chocolate cake; made with two layers. I used my enhanced box-cake mix recipe that can be found here.
The cake was frosted using White Buttercream Icing. Half of the batch was dyed blue.
Half of the cake was frosted with white frosting and then covered with crushed Teddy Graham cookies (use a food processor to get a finely ground mixture) to resemble sand. The other half was frosted with blue icing out of a Wilton grass tip (#233). Using the grass tip in a slightly different way leads to the appearance of waves and water.
I surrounded the cake with chocolate "stones" (purchased at Vanilla Bean).
The beach scene was created using a plastic palm tree, paper drink umbrellas, Teddy Grahams, Fruit Roll-Ups (for the beach towels), and Gummy Lifesavers.
The "Happy Birthday Isla" letters were cut out of pink fondant using alphabet fondant cutters.
The blue ocean life cupcakes were frosted using a 1M tip & blue icing. I placed a pressed sugar animal on each.
The flower cupcakes were frosted with a large leaf trip & green icing. I placed a pressed sugar flower on each.
The beach ball cupcakes were created by cutting the design out of fondant — you'll need red, yellow, blue, and white. I cut them out by hand, so I don't have a template to offer.
Let me know if you have any other questions! Here are some more photos.