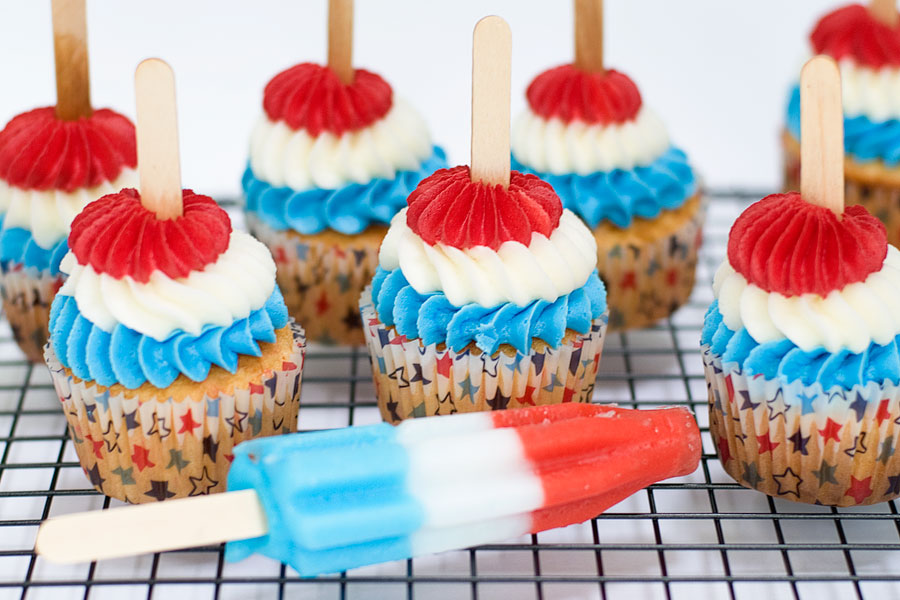 Who doesn't love Bomb Pops? And who doesn't immediately think of their childhood upon seeing one? Bomb Pops are just one of those iconic American treats. I used to (and still do) prefer the red and white portion to the blue. I was never much of a blue raspberry fan. What other summertime treats remind you of being a kid?
Bomb Pop Cupcakes
Print Recipe
24 cupcakes (I used a box mix, but feel free to make any kind you'd like)
1 batch of buttercream frosting (I used the white buttercream icing recipe here)
AmeriColor Super Red food coloring
AmeriColor blue food coloring
A large star tip (I used an Ateco large fine cut star tip)
Popsicle sticks
1. Divide your batch of icing into thirds. You'll want a bit more for the portion that will be blue. Dye the frosting red, blue, and the rest plain white.
2. Pipe the frosting onto each cupcake, starting with the blue on the bottom. Then the white. Then the red.
3. Stick a half of a popsicle stick (I cut them in half with a scissors) into each cupcake.
Enjoy!