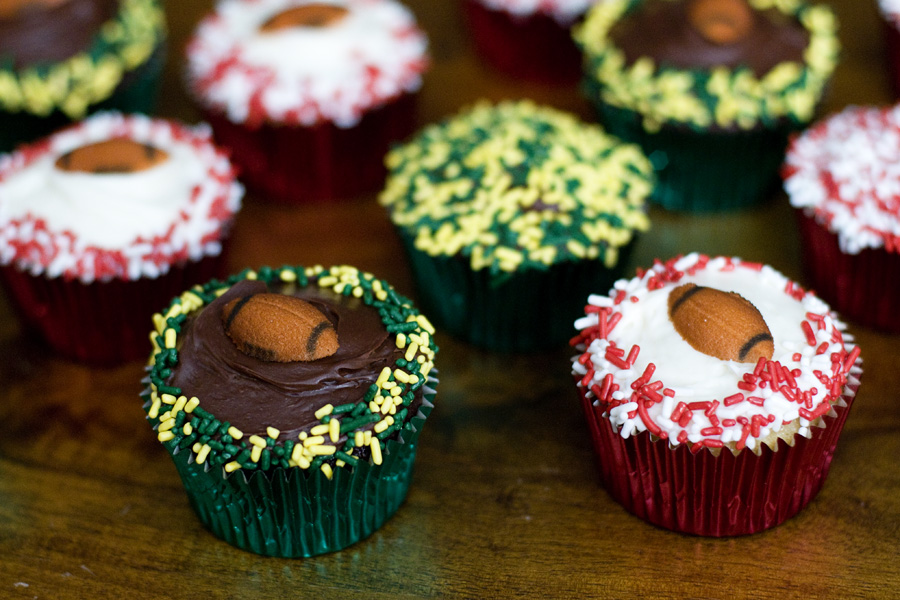 Each weekend in autumn brings football, football, football. My beloved Badgers play the Buckeyes today & the Packers play the Dolphins. Last weekend I made these cupcakes for a Badger game tailgate. I was short on time and energy the night before, so I used boxed cake mixes. And yes, I'm aware that box cake mixes make some purists cringe.
What are your thoughts on boxed cake mixes? Yay or nay?
I believe that if you've got both the time and the energy, you should make your cake, cupcakes, or other baked goods from scratch. They just taste better and are usually better for you (despite the amount of butter that goes into some recipes!). But sometimes life just gets in the way, which is why I see no problem in using box mixes every now and then. I get frustrated by the purist attitudes of some food bloggers – that if you don't grow your own vanilla beans or buy the most expensive butter, that you shouldn't be baking. Ridiculous. Not all of us have the time and money to dedicate our lives to the art of it — and baking isn't always about the end result. Baking is about friends and family, it's about making memories. My best friend in high school used to come over to my house about once a month – and we'd make ridiculous creations using boxed cake mixes. Rainbow cakes and crazy cupcakes. I remember the fun I had with Emily and that matters more than the fact that our baked goods weren't made from scratch.
I could also write about the aversion that some have to using vegetable shortening. Shortening probably isn't the best thing for you and some people don't like the greasy taste that it brings to frosting or baked goods. But a little frosting that includes shortening is not going to set the world aflame. Everything in moderation, right?
So do what makes you happy. Use the ingredients that make baking fun for you. Enjoy the process (and hopefully the yummy end results!).
Have a great weekend, everyone.