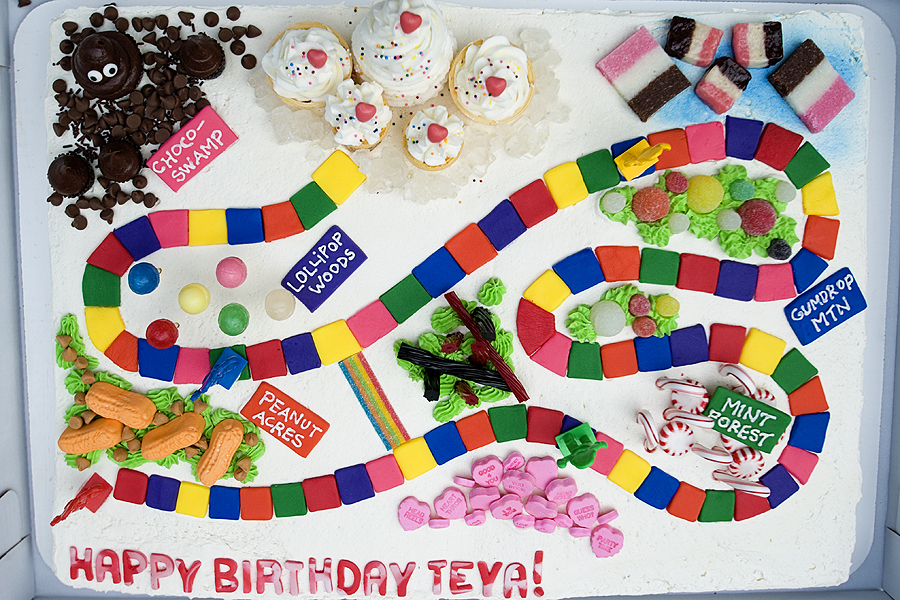 Candy Land has always been my favorite board game. Even as a twenty-something, I still ADORE it. It reminds me of being a kid and all of the memories of playing the game with my grandparents. It's a classic game that I hope to someday play with my own kids. I made this cake for Teya, who turned 1 year old last week. Her mom let me pick the theme of her birthday cake — which was perfect, as I've been wanting to make a Candy Land cake for YEARS! Here's how I did it…
First and foremost, I cheated. I had to make this cake on a Friday afternoon/evening and only had about 8 hours to work — and I was leaving early the next morning for an out-of-town wedding. I didn't have the flexibility that I normally have when making birthday cakes. So I made my life easier and bought a pre-made cake from a local bakery. The cake is HUGE. It was about 18″x24″ — and you will need all of that space to fit in all of the elements of the game. The bakery also frosted the cake for me, another huge time-saver!
I used a small (about 1″x1″) square fondant cutter to make the board game squares. I rounded the corners a bit to make it look softer. You'll also need to shape the pieces according to the curves in the path. Before I placed any of the fondant squares on the cake, I used a knife to "draw" the path into the cake so I had a template to go from.
You can use any Candy Land board you'd like for inspiration. I think the older boards are far more charming, so I drew more inspiration from the 1960s/1970s/1980s boards than I did from the current board. All you have to do is Google "Candy Land board" and you'll be presented with a ton of images to get ideas from.
I mixed white and red fondant together, rolled it out, and used alphabet fondant cutters to make the "Happy Birthday Teya!" text. I wanted a look that was similar to the candy cane style of the "Candy Land" lettering.
Peanut Acres was made by piping green frosting onto the cake for "grass", and then placing butterscotch chips and orange circus peanuts onto the cake.
I had to special-order the candy hearts from an online candy store — as we are definitely out-of-season for Valentine candy!
I also had to special-order the small candy canes for the Mint Forest. I found the red & white starlite mints at Walgreens.
Lord Licorice's section of the board was made by cutting red and black licorice sticks in half and then pressing them into the cake.
The rainbow path was made using a sweet-and-sour candy that I found at Walgreens. I forgot the name of the candy — but it comes in a bright green package!
Lollipop Woods was made using Dum Dums.
Gumdrop Mountain was make using both large and small gumdrops, placed onto a bed of green frosting.
The ice cream floats are Neapolitan coconut candies — the smaller candies are made by Brach's. I found them at a local grocery store, but you can also order them here.  The larger floats were cut from Neapolitan coconut candy bars made by Candy Farm. I found them at Hallmark of all places, but you can order them online here. I used blue food coloring spray (available at most grocery stores or bake shops) for the water.
The Chocolate Swamp was made from a variety of items: chocolate sprinkles, chocolate chips, large Reese's peanut butter cups, and small peanut butter cups. I used a large round piping tip to pipe chocolate frosting onto the peanut butter cups. I added candy eyes to make the monster.
The candy castle was created using ice cream cones, plain buttercream frosting, sprinkles, and white rock candy. I cut each ice cream cone in half and piped a large amount of frosting onto each piece using an 1M tip. I placed the pieces of the "castle" onto the cake and covered in sprinkles. I surrounded everything with white rock candy. You can also add a pink or red M&M to the top of each.
I cut rectangles out of fondant and piped the name of each "land" using a very small round pastry tip.
I tried to include as much information as I could, but if you have any questions, feel free to contact me! Here are more photos: