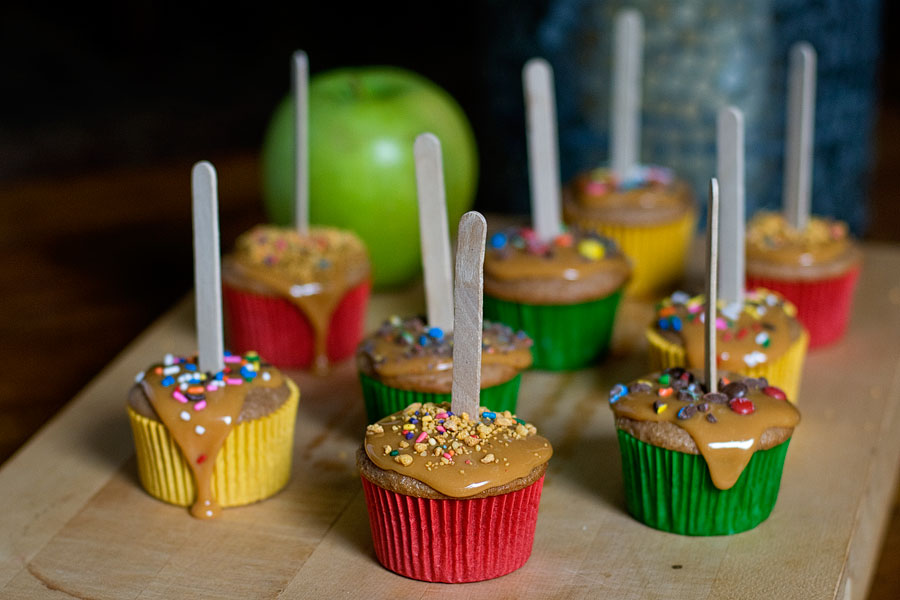 It's October! My favorite month of the year! The time for sweaters, chilly weather, beautiful trees, pumpkin carving, Halloween, apple cider, the smell of burning leaves, and, well, it's just the season of ultimate coziness. I read a quote on Twitter, "If you say pumpkin spice latte in the mirror three times, a white girl in yoga pants will appear and tell you all her favorite things about fall." Accurate. Yup, that's me. Except I'm not a huge pumpkin fan. Minor detail. [and note: I'm not sure who to credit that quote to or who said it originally! My apologies, witty person on Twitter]
Anyway, I thought I'd get things started with some caramel apple cupcakes. I have A LOT of treats to blog about this month, so be sure to check back often!
Caramel Apple Cupcakes
Recipe source: The Girl Who Ate Everything
Print Recipe
1 box spice cake mix
2 large eggs
1 cup sour cream
1/2 cup milk
1/3 cup vegetable oil
1 cup peeled, cored, and chopped Granny Smith apple
35 caramels
1/4 cup evaporated milk or heavy cream (or regular milk)
1/2 cup chopped pecans
24 wooden craft sticks
1. Preheat oven to 350 degrees.
2. Combine cake mix, eggs, sour cream, milk, and vegetable oil until incorporated (about 30 seconds). Scrape sides of bowl and then beat on med-high speed for 3 minutes. Stir in chopped apple.
3. Spoon batter into paper-lined muffin pans, filling two-thirds full.
4. Bake 18-20 minutes or until a wooden toothpick inserted in center comes out clean. Do not overbake. Remove to a wire rack to cool.
5. Meanwhile, combine caramels and milk in a medium saucepan over very low heat; stir 4 minutes or until smooth. It's very important to keep the heat very low because if the caramel gets too hot it will become really hard when cooled.
6. Spread caramel mixture over cupcakes being careful to not touch the caramel to the paper liners or it will stick to the liners; immediately sprinkle with pecans, pressing in slightly.
7. Insert a wooden stick into center of each cupcake. Store covered in an airtight container. Best served on the day they're made.
Makes 20-24 cupcakes.