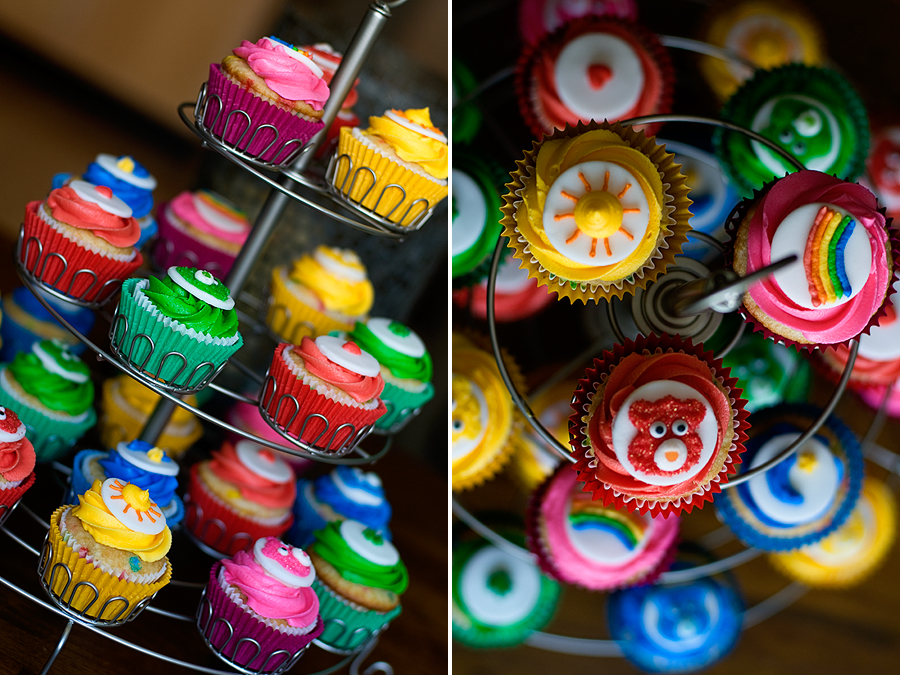 Raise your hand if you were a child of the 1980s! If so, these cupcakes will send pangs of nostalgia running through your heart. Who didn't love the Care Bears? Cheer Bear was my favorite, because of the rainbow. I was asked to make these cupcakes for a Baby Shower, as Care Bears were the mom-to-be's favorite show growing up. I scoured all of Madison trying to find Care Bear-themed ANYTHING, but no such luck. As a result, my friend Meghan and I made all of the designs from scratch. Here's a list of what was used and what we did:
Care Bear Cupcakes
Print Recipe
24 cupcakes (I used funfetti box mix, but feel free to make any kind you'd like)
Colorful cupcake liners
Food coloring (I used AmeriColor neon pink and Wilton gel colors for the rest)
White fondant
A small circle cookie cutter
Pressed sugars in shape of hearts and shamrocks (you could also use icing to create these, but we took the easy way out!)
Piping bags + pastry tips
Bake the cupcakes and allow them to cool completely.
Decide which Bears you will be making — I chose Cheer Bear (pink + rainbow), Bedtime Bear (blue + moon), Good Luck Bear (green + shamrock), Funshine Bear (yellow + sunshine), and Love-a-Lot Bear (red + heart).
Make a batch of icing. I used the White Buttercream Icing recipe found here.  Save about a cup of the white icing and divide and separate the rest, dyeing each batch accordingly.
Pipe icing onto the cupcakes using an M1 Wilton tip.
Cut 24 small circles out of rolled fondant.
Design the squares to represent each bear. I piped rainbows, moons, and sunshines using icing — and used the pressed sugars for the hearts and shamrocks.
Meghan made the Bear cupcakes. She sketched out the shape of the bear's head and piped frosting onto the fondant in that shape. She dipped the bear into sanding sugar to give it the appearance of fur. She then added sugar "eyes" and made a nose out of icing.
Apologies that the directions for these cupcakes are a little vague — we did a lot of improvising! Let me know if you have any questions :)