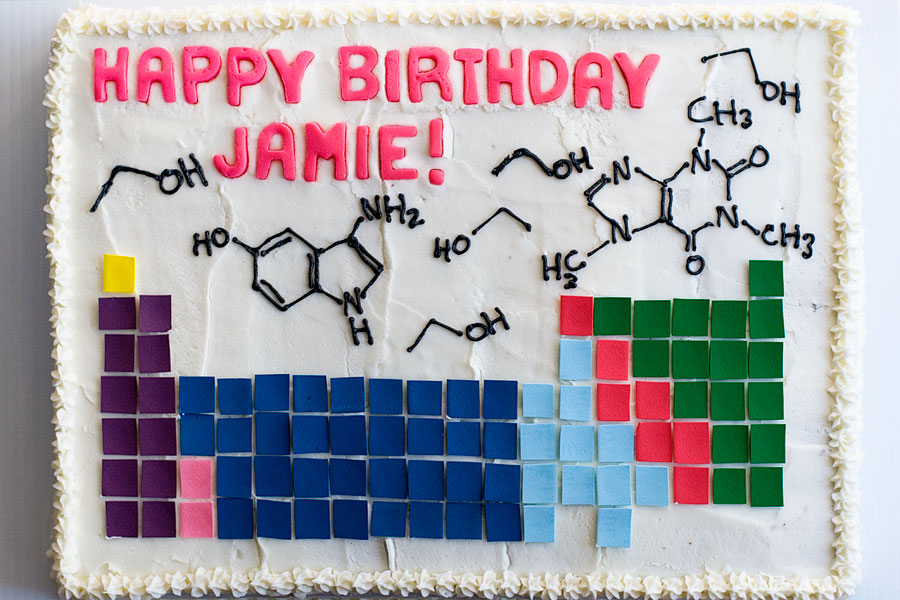 My lovely friend Jamie had a birthday back in Deceember. She works as a quality control chemist and is almost as much of a science geek as I am. I decided to make her a big ol' chemistry themed birthday cake! I realize that this cake's theme is confined to a pretty small niche of people, but I thought I would share it on my blog anyway — in case any of you have chemistry-loving kids or friends!
Baked a two-layer chocolate cake (using box mix, as always with these elaborate cakes). I believe the size for this cake was 11×15″.
I frosted the entire cake with white buttercream icing — and used a small star tip to pipe the detailing around the border.
I cut out "Happy Birthday Jamie!" out of neon pink fondant using small alphabet cutters.
I bought Wilton's new sugar sheets to make the periodic table. I bought as many colors as Hobby Lobby sold! I cut out little squares out of the sugar sheets and assembled them to look like the periodic table. The different colors signify different types of elements — gases, halogens, transition metals, etc. Hmmm, I never thought I'd be using the words "transition metal" on my baking blog!
As a final step, I piped the molecular structure of a few common molecules (caffeine, ethanol, and seratonin) onto the cake.