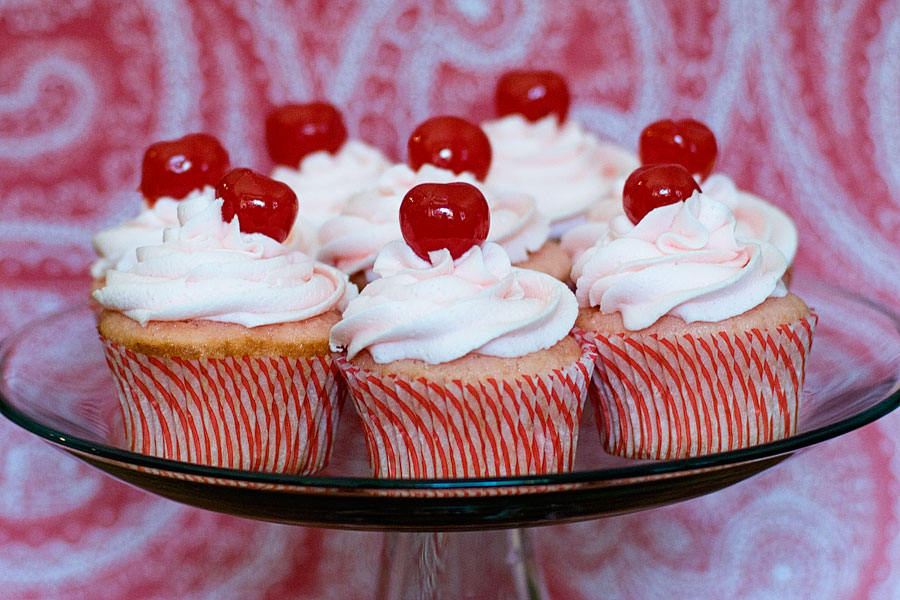 All I can think of when I see these cupcakes is the moment, during the process of making them, when I dropped an entire jar of maraschino cherries on the floor of my kitchen. Cherries… lost. Kitchen floor… forever sticky. I mean, really, do you know how are it is to un-stick maraschino cherry juice?! I think I washed the floor 4 times. But these cupcakes were worth it. And yes, I used another jar of cherries instead of using those that fell on the floor.
Once I recovered from my cherry-spilling disaster, I had yet another accident. When removing the cupcakes from the oven, I dropped the pan. My klutz gene must have been turned on high that day. Luckily the cupcakes spilled into the oven and not onto the floor. But yikes! Some of them didn't survive and most got a few more brown edges than they would have had otherwise.
All of those comical setbacks aside, I'm a big fan of all things cherry – especially sour cherries (but more on those later in the summer). Maraschino cherries always remind me of being a kid and ordering Kiddie Cocktails (with double the cherries, please!). The flavor combination of cherries and almond is really great, so give these a try.
Cherry-Almond Vanilla Cupcakes
Recipe source: Better Homes & Gardens
Print Recipe
1/2 cup butter
4 egg whites
2 cups all-purpose flour
1 teaspoon baking powder
1/2 teaspoon salt
1/4 teaspoon baking soda
3/4 cup buttermilk
1/3 cup maraschino cherry juice
1-1/2 cups sugar
1 teaspoon vanilla
1/2 teaspoon almond extract
12 maraschino cherries, halved
Maraschino cherries with stems (for garnish; optional)
Cherry-Almond Butter Frosting
1/2 cup butter, softened
4 cups powdered sugar
3 tablespoons maraschino cherry juice or milk
1/2 teaspoon almond extract
Milk
1. Allow butter and egg whites to stand at room temperature for 30 minutes. Meanwhile, line twenty-four 2-1/2-inch muffin cups with paper bake cups (or coat with cooking spray). In a medium bowl stir together flour, baking powder, salt, and baking soda. In a 2-cup glass measuring cup combine buttermilk and cherry juice; set aside.
2. Preheat oven to 350F. In a large mixing bowl beat butter with an electric mixer on medium to high speed for 30 seconds. Add sugar, vanilla, and almond extract; beat until combined. Add egg whites, one at a time, beating well after each addition. Alternately add flour mixture and buttermilk mixture to beaten mixture, beating on low speed after each addition just until combined.
3. Spoon batter into prepared muffin cups, filling each about two-thirds full. Use the back of a spoon to smooth out batter in cups. Press a cherry half into batter in each cup.
4. Bake for 15 to 18 minutes or until tops spring back when lightly touched. Cool cupcakes in muffin cups on wire racks for 5 minutes. Remove cupcakes from muffin cups. Cool completely on wire racks.
5. Make the icing: In a large mixing bowl beat butter with an electric mixer on medium speed until smooth. Gradually add 1 cup of the powdered sugar, beating well. Beat in maraschino cherry juice and almond extract. Gradually beat in additional powdered sugar. If necessary, beat in additional juice or milk, 1 teaspoon at a time, until frosting reaches spreading consistency.
6. Using a pastry bag fitted with a large star tip, pipe icing over tops of cupcakes. If desired, top with cherries. Makes 24 cupcakes.